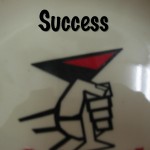 It's not uncommon for me to consult with a client hampered by a "fear of success". 
Your knee-jerk reaction could likely be this… "What?  Why wouldn't anyone want success?"  But so many people this tendency, that I wanted to address the issue.
Why would a person reject success, so much so, that they actually fear it?
I find it comes from a mindset of compromise and mediocrity.  When a person "settles" for the way their life is, rather than seek to expand and improve it, they reject any change, especially success.   That's because success threatens to upset the cushy, comfort zone that a person may have willingly settled into.
These people are likely to engage in self-talk that sounds something like this:  
"If I try to be successful, I will only fail, so why disappoint myself."
"People that are successful are lonely 'on the top'."
"I just want to do an honest day for an honest day's pay!"
"Only people who have money can make money.  Why should I even try?"
"People only get to be 'successful'  by taking unfair advantage of ordinary folks."
When I hear this sort of self-defeatism, I only hear excuses.  Lying behind these vacant excuses are timid and scared people who know their lives will change if they step out of their box and reach for higher goals.  So they convince themselves that the best place to be is buried deep within the safe confinement of their self-imposed prison.
This often comes from conditioning at a young age.  It then gets reinforced in the person who, for instance, has tried and failed at their own business.  That person might quickly tell herself "That's it… I tried and it's just a scam."
Even if you've been handicapped in this manner, once you claim the desire to attain more success, you can.
Look back at all the messages you have received since you were a kid.  What were they?  Did you have people telling you that "You're a loser"  Maybe later in life you heard that "You can't have your own business without being an MBA."   False!  If you want to achieve success in your life, you can get the training you need.  And success can follow if you pursue it vigorously.
The main requirement, though, is to stop hiding behind the illusion that you don't really want or need success.  Tell yourself, tell your friends… tell anyone that will listen, that you are making changes and fully intend to reach new levels of success in your life.  Now, you're out of the box and finally on the road to attaining the success that you no longer have cause to fear.  
To your Success!
Donna