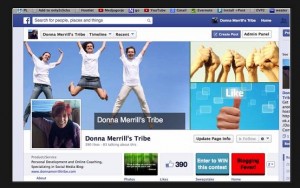 Some people are upset that Facebook has gone corporate.  They tell me that their posts don't get the organic social reach they once did.  While that may be true, I still think that Facebook is a marketer's dream.
I'll give you a few reasons why I say that, then I'll share with you a short video I put together to show you how I've started using Facebook for marketing.
Now, let me be clear about one thing.  When I say that I use Facebook for marketing, I'm talking specifically about Facebook pages, often referred to as "fan pages."  Here's why I think that Facebook "pages" are so much better to develop than your Facebook profile (your personal feed).
Unlimited Growth.  The number of Facebook "friends" you can have on your personal profile is limited to 5,000.  But your

Facebook pages can have an unlimited number of "fans". Also, you can only have one profile, but an infinite (or at least

far more than you'll ever need) number of fan pages.  I don't know about you, but I don't like limits set on my business. 

So if I'm going to spend a ton of time, effort and "ad spend", I want to know that my growth is limited only by my ability

and resources, not by some arbitrary set of rules.
Commerce. 

Pages can be used to build your business.  You can sell products, market services and your own business brand. 

There's many built in Facebook tools that even help you do that, like "Insights," "Facebook Ads" and "Custom Audiences". 

You can even use custom apps to build a mailing list and boost your Facebook likes.  These activities are expressly

prohibited on your profile.
Privacy.  While your personal profile is built to feature your personal information and activities, your fan page only

shows things you post for the consumption of your clients, customers and followers.  Does your kid have a birthday coming

up?  All those details can be confined to your profile for family and friends, but can be kept private and hidden from

your fan page consumers.  This helps keeping your "private" world separate from your business world… not an easy thing

to do if you're only using your profile on Facebook.
Professionalism.  If you're sending customers, blog visitors and the like to your personal page, you don't look like

you're running a business.  If you send them to your business or fan page, you appear to be far more professional, and

will likely attract a more serious minded clientele.
SEO.  Fan pages, like any other web pages, can be ranked by the major search engines.  That means, they stand a chance of

gaining greater exposure, and you stand a chance of getting a lot more traffic to your page, your offers and even your

blog if you point people in that direction from your fan page.  So, make sure your pages are "search engine optimized" to

build an even bigger following.
Now that you have an idea of WHY I'm working on developing my Facebook fan page, let me show you HOW I'm doing it.
What do you think?
Has Facebook become a marketer's dream… or nightmare?
Do you have a Facebook fan page?  Have I inspired you to create one, or have I given you some ideas for making better use of the one your have?  I'd love to hear from you in the comments below.  PS: Don't forget to share this article on your social sites, and even on your Facebook pages!