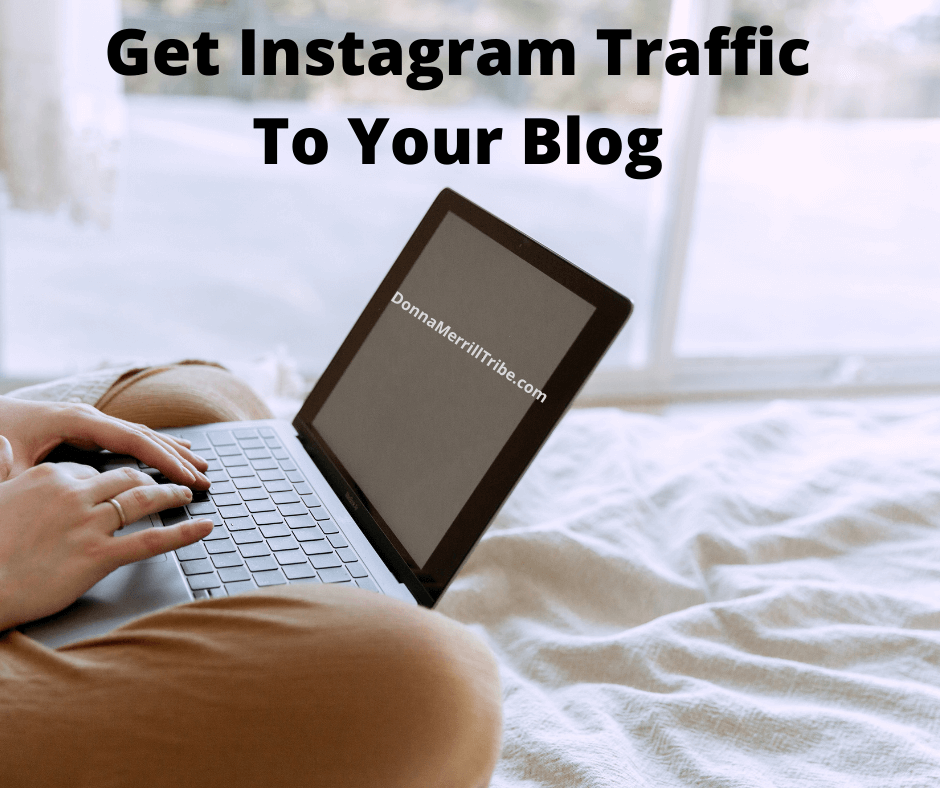 There are many ways to get Instagram traffic to your blog.
For bloggers, one of the best methods is to add what I call "blog post captions."
I'll tell you what I mean by that in a minute.
But first, let's talk about some Instagram basics.
Instagram for your personal blog
Okay, first of all… Instagram is not just for visual blogs.
But it helps.
If your niche is visual… like fashion, travel, photography and the like… then Instagram is a natural fit.
That's because you can easily find or create images that show people what you want to talk about.
A little black dress, a trip to an exotic island or your latest nature trail photo shoot… these things are easy to picture, right?
But what about more abstract things like effective copywriting… not so easy to put a picture to that is it?
So think about how you can visualize your niche.
Then start collecting the best images you can muster to "show" people what your blog posts are about.
Instagram for your business blog
If your blog is a company or business blog, then you will have the same challenges.
How can you visualize what you are offering to prospects?
If you have a line of children's clothes, for instance, it should be a snap to keep posting photos of different styles you want to feature.
But if you are trying to promote your law firm on Instagram, it's not so easy to come up with visual material.
Now, any business can theoretically take advantage of Instagram.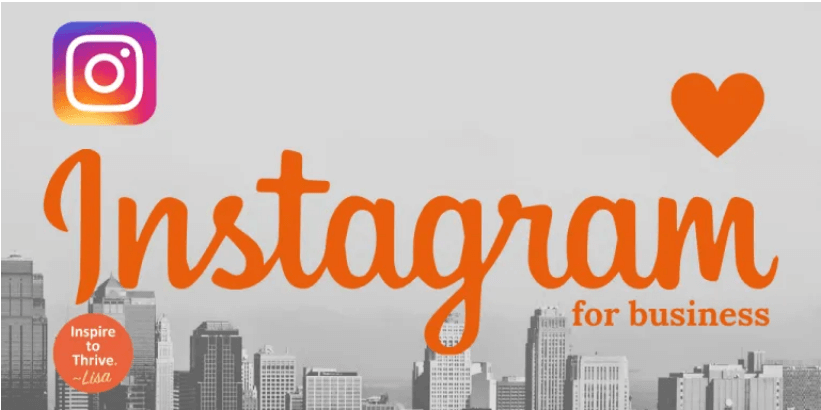 Click the image above to read Lisa's article, Instagram for business on Inspire to Thrive.
And, while you're there, make sure to check out the information about her course…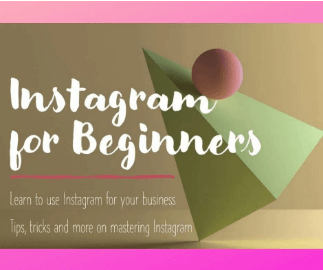 But it's obviously going to be a lot easier if you can show people things, instead of just talk about them.
So that will be your challenge.
To picture what you do and sell.
And this is one of the reasons I strongly encourage businesses to have a blog.
With a business blog, you don't have to show things you sell or market.
You can simply get people's attention with a good image, and then send them along to your blog.
That's where they'll really get the lowdown on what you do, and how it can benefit them.
How to promote a blog post on Instagram
This is one of the things that all bloggers immediately think about.
They keep writing blog posts, but they want them to get more exposure.
So they wonder if Instagram can help.
Well, sure it can, if you can post images that draw people to the subject matter of your blog posts.
But just how do you promote each blog post on Instagram?
Use your blog post images
Each time you write a blog post, you should be using images.
You have a featured image, of course.
That is the one that people see when they click on your blog post.
But then you have other images that show people things you are talking about within your articles.
Or at least you should.
One of the nice things about choosing to promote your blog posts on Instagram, is that it keeps you working at adding great images to your blog.
And that's a good thing.
Not just because it gives you Instagram shots, but because those images will help keep your blog visitors engaged, too.
Link to your blog
Now, here comes the tough part.
How do you link to your blog?
Well, you can put the URL to it in your captions, but the link won't be clickable.
You can even put the URL on your image itself, but again, it won't be clickable.

So, you have to tell people to copy/paste or even type your link into their address browsers.
Or, you can just tell them to go to your profile link, which should be the main link to your blog.
The trouble with that is that they won't go directly to the blog post related to your image.
They will just go to your main URL.
To get Instagram traffic to your blog, this works.
But to get it to a specific blog post is not a simple matter of inserting a clickable link.
That's one of the big reasons I suggest using "blog post captions."
How to use Instagram captions
Most people think that writing an Instagram caption is all about saying something catchy and clever to accompany your image.
That's true.
But there's an even more powerful way to use captions to get Instagram traffic to your blog.
It's writing extended captions.
Long-form captions.
Captions that summarize, or lead into your blog post.
This is really a form of microblogging.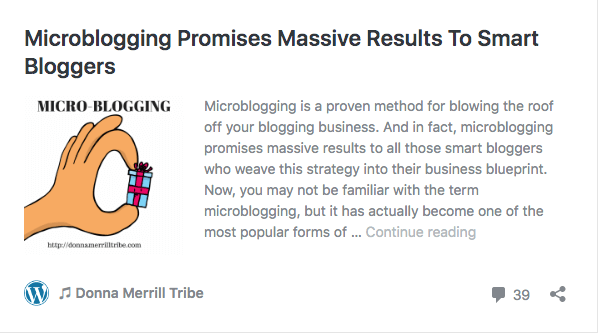 Bloggers rarely take good advantage of this on Instagram.
But you can!
Here's why.
Instagram actually allows you to post up to 2200 characters.

Did you know that?
Most bloggers don't.
Now I fooled around with that a bit.
I found that using basic words, nothing unusual, 2200 characters converts into about 400 words.
That's like a short-form blog post!
Example of Instagram blog post caption
So why not write a shortened version of your latest blog post, or a summary, and use it as an Instagram blog post caption?
It could look something like this…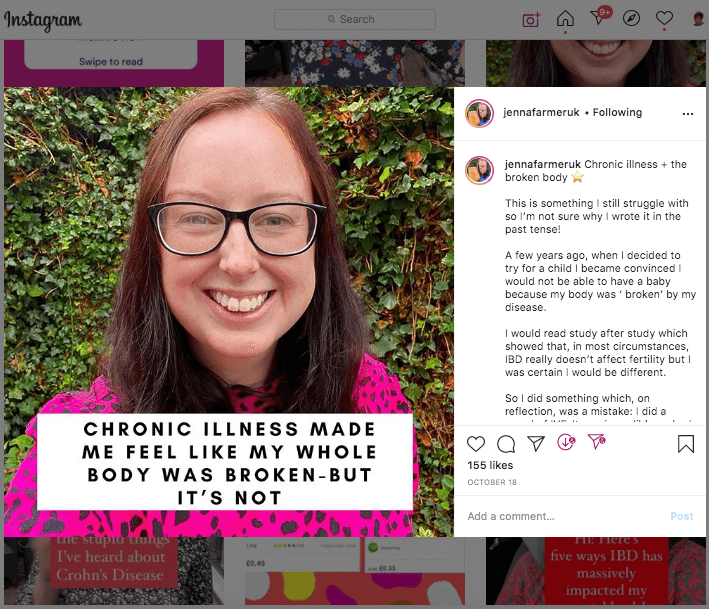 Here's the full text of the microblog that Jenna wrote for that Instagram "caption."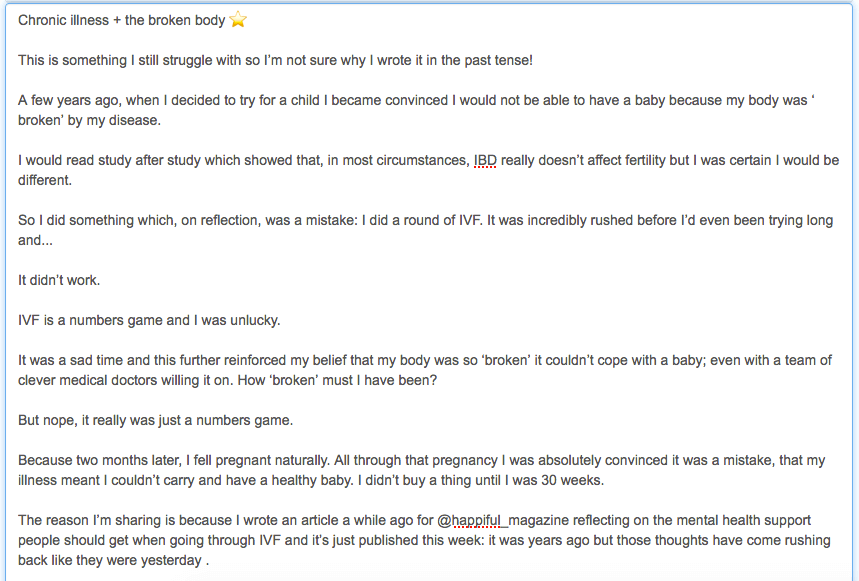 And here's the hashtags she used…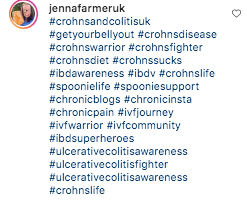 So, you see, Jenna has actually written a blog post, hasn't she?
But she wrote it as an Instagram caption.
That's a great way to get Instagram traffic to your blog.
It's sort of like "teaser" content that can lead into your longer, more thoroughly written blog posts.
And remember, it's free!
So maybe it's time to start your own "Instagram blog."
How to add a link to your Instagram blog post caption
The big problem bloggers have with Instagram is that you cannot put links in your captions.
Instagram only allows one single link on your profile.
The idea is, if people are interested in the subject matter of your photos and images, they could go to your profile and click on the link you provide to see what you're all about.
So, as a blogger, you probably would put your blog's homepage link in your profile in order to get Instagram traffic to your blog.
That's fine.
But remember this.
When you post an image with a caption, like in the above example, people won't go to any specific blog post your wrote.
They'll just go to your blog's home page when they click the blog link on your profile.
Third-party Instagram apps
Now, this problem has been "solved" by many third-party Instagram apps.
IGLI.me
Like one called Igli.me…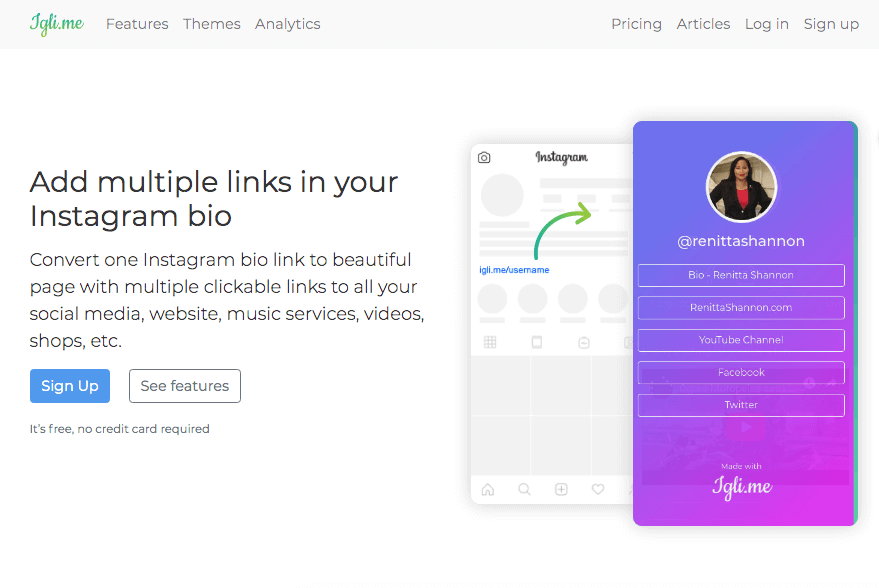 You can see what's happening here.
People click your "igli" link and get redirected to a page that has multiple links.
Those links can be redirect them to different blog posts, or to a service you provide… even affiliate links.
That's cool.
A similar one is Link Tree.
Link My Photos
Another interesting one is Link My Photos…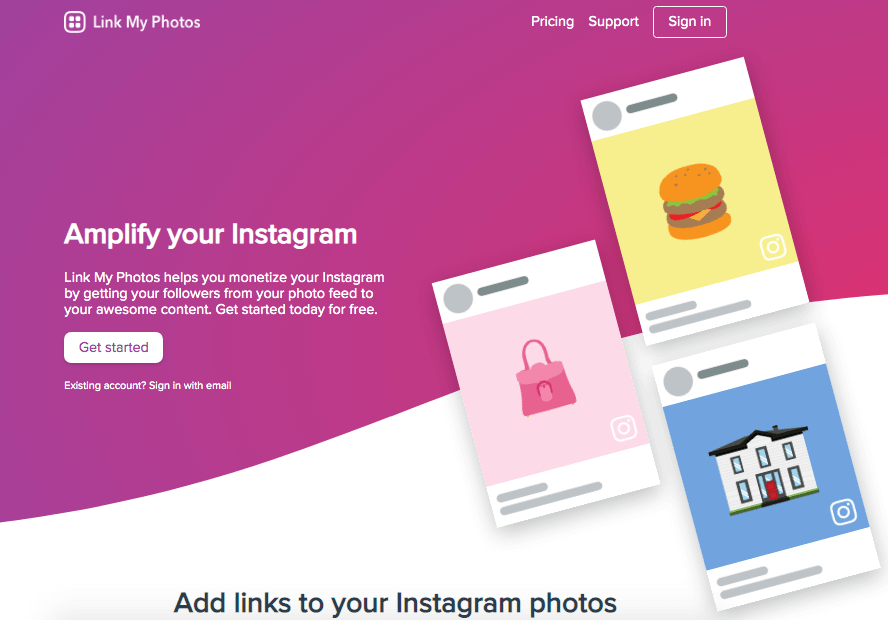 With this app, you could use your own Link My Photos site as your profile link.
Then, people could see your images, such as a featured blog post image, and click it to go to that blog post.
Link My Photos, like most third-party apps, has both a free and paid version.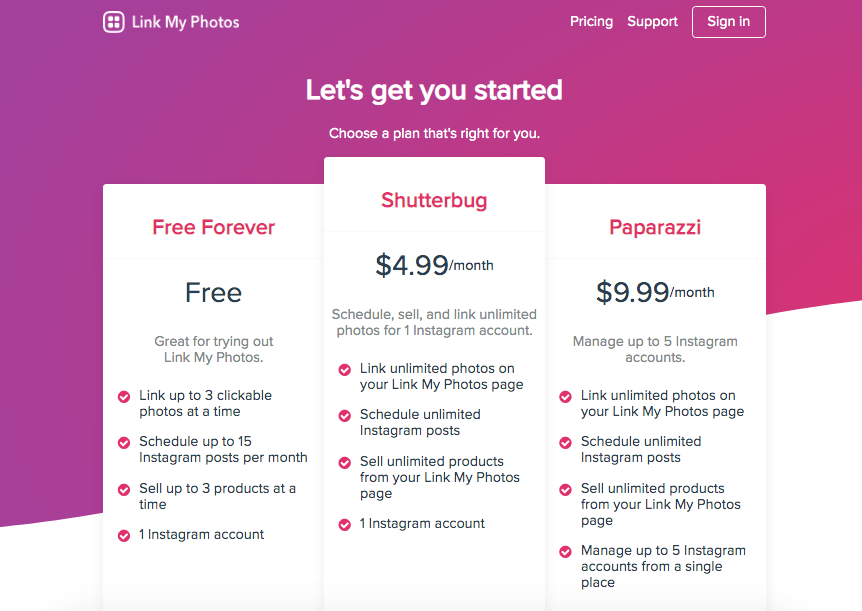 Create your own Instagram landing page
As cool as the third-party apps are, they have a big down-side.
They often violate Instagram's Terms of Service.
And there are other reasons for not using third-party apps.
You see, Instagram wants you to use your own landing pages, not an app tool.
And it's actually better branding for your personal or business blog, so hey, why not just do that?
Mel Judson did.
Here's how that works.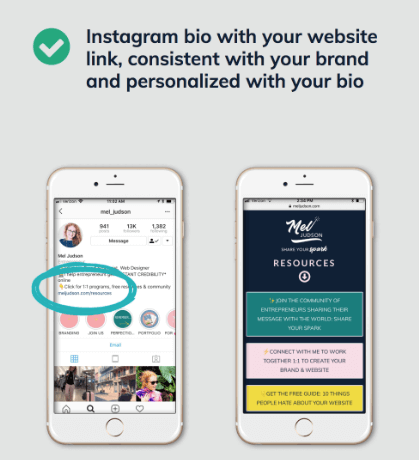 She simply linked to her private landing page instead of a third-party one.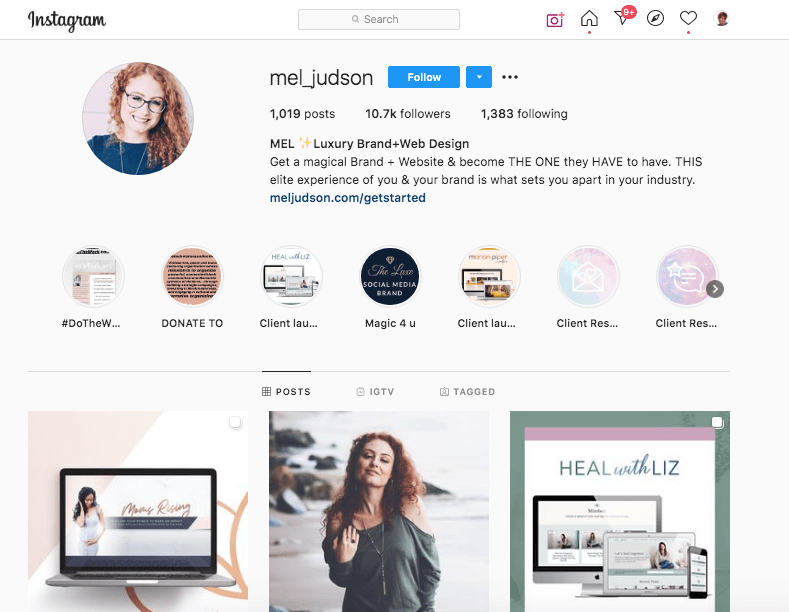 It looks great, too.
You can see her actual Instagram landing page here.
And how about her branding?
All the links she wants to showcase are right on her own blog.
She simply created a page (a landing page) called "Get Started" on her blog and stylized it the way she wanted.
Anytime she wants to add, delete or change a link or topic or service or affiliate offer, she just has to edit that page!
Pretty simple, especially on WordPress.
Get great Instagram traffic to your blog for free
You can truly get some great Instagram traffic to your blog for free.
Now you see how easy it can be.
Sure, it takes work and consistent posting.
Like anything, right?
And you want to take steps to make sure to protect your Instagram account from hackers.
But that's it, really.

What do you think?
Are you ready to implement some of these strategies?
Which ones appeal to you most?
Isn't it time you started getting some Instagram traffic to your blog?
-Donna
PS: I'd love it if you share this article on your social sites 🙂