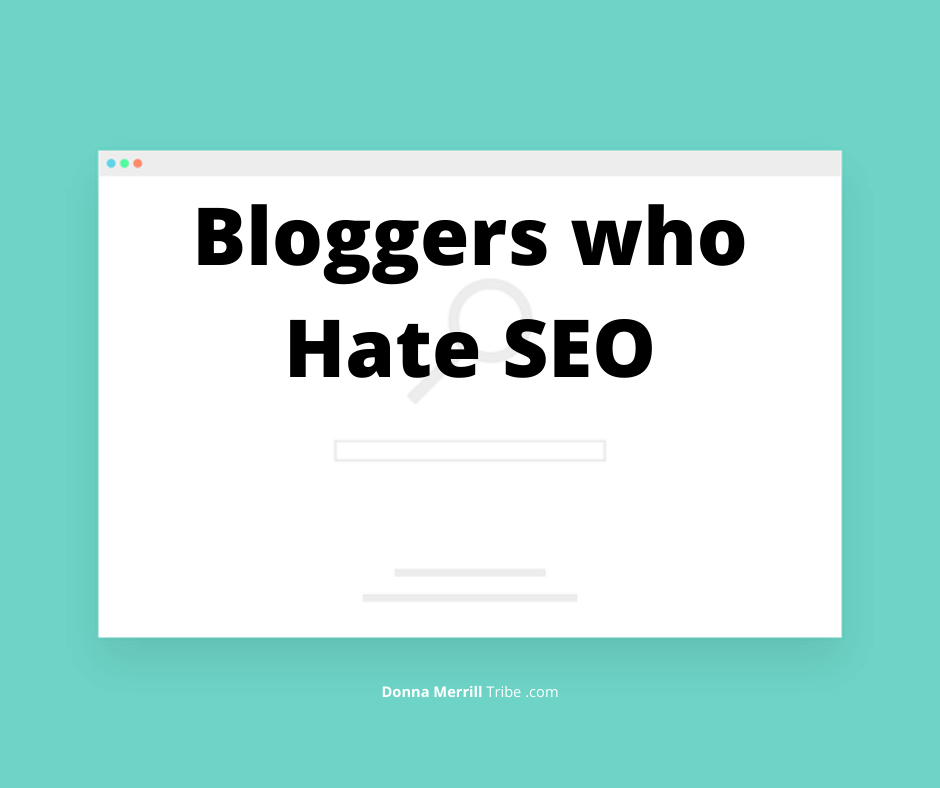 All you bloggers who hate SEO, I've got some good news for you.
Blogging is not all about SEO.
It's about publishing valuable content that people in your niche want to read.
Even more to the point, it's about publishing valuable content that people who follow you want to read.
That's right.
People who read your blog regularly, or people who are on your email list… those are your loyal followers.
They are your audience.
And those are the people who you want to be writing for.
They're the ones whose problems need to be solved, questions answered and thirst for knowledge quenched.
BUT, that doesn't mean you can ignore SEO, or "search engine optimization" as the experts call it.
In fact, Anil Agarwal gives you a complete guide to using SEO, and it's well worth checking it out.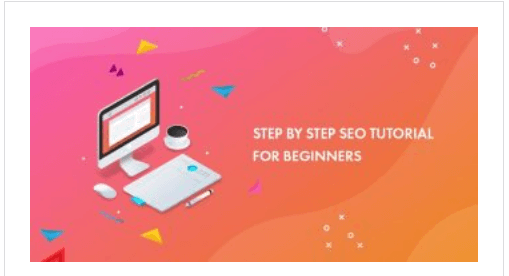 Here's Anil's Step By Step SEO Tutorial For Beginners,
at Bloggers Passion.
The point is, SEO is not is not insignificant.
It's just not the whole game.
It's not even the most important piece in the puzzle that we call "blogging."
The bare basics for bloggers who hate SEO
Okay, maybe you thought this article was not going to be about SEO.
Just because you may one of those bloggers who hates SEO, though, doesn't mean you can ignore it.
It just means you don't have to obsess on it.
So let's make this easy so that even you SEO haters can do still take advantage of it, but without getting all tripped up over the jargon and analytics that it usually entails.
Here's some SEO basics that you cannot escape.
Why should you have to do SEO at all?
The simple answer: to help people find your blog posts.
Understand this.
You simply must do a few things on your blog post in order to make it visible to people.
Here's the thing, though.
Nobody really likes to have to jump through hoops to get their blog posts read.
I'm sure you don't either.
You figure, you've written a really good blog post.
It's going to help a lot of people.
So why shouldn't the search engines make it visible to people searching for the kind of article you just published on your blog?
Well, that's exactly why even bloggers who hate SEO must take some important steps to prepare their blog posts for the search engines.
It deserves to be seen, right?
So let's figure out how to use Google to make that happen.
What is blog optimization?
Optimization is simply a way to make your blog post more visible to search engines.
You want people to find your article when they search for your topic, right?
So you simply have to know some of the simplest, basic rules of SEO, or Search Engine Optimization.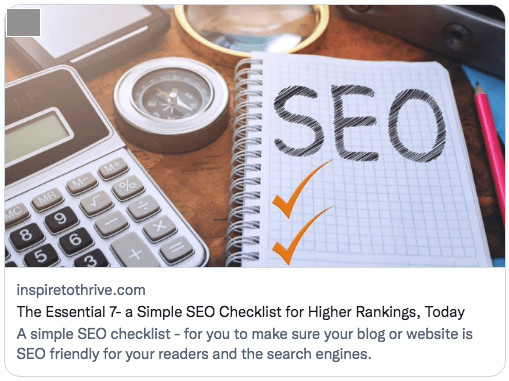 Lisa Sicard has put together a Simple SEO Checklist you can follow.
You'll find it at Inspire to Thrive.
Then, adhere to them.
SEO is the way your blog post will be indexed by Google and the other search engines.
Get your blog posts indexed
Think of it like this.
Say you told a friend, "hey I just wrote a great article, here's the link so you can read it."
Now, your friend would probably ask "what's it about?"
If you say, "oh, just read it, you'll like it," there's not much chance they'll ever read it.
And if they're a total stranger, almost for sure they won't.
Same goes when you're trying to get search engines to "index" it… that is, put it on their search list for people to find.
So, if you write a blog post about fly fishing, Google won't know who to show it to without your help.
Help them index, or categorize your blog, by implementing SEO optimization strategies.
Yick.
I know bloggers who hate SEO, also hate all those terms.
But it only means… tell Google exactly in a variety of ways, just what your blog post is about.
And tell them who it can help.
That's all that blog optimization is.
Let me show you how to do that.
Prepare your blog post for the search engines
Notice, I'm not telling you ways to "optimize your blog post."
But that's only because I know you're one of those bloggers who hate SEO.
So let's not talk about optimization.
Let's talk about preparation.
After you write your blog post, you prepare it for publication.
Right?
So, first, you proofread it.
Then, maybe you add some images or videos.
Perhaps you put in some links for people to get more information on your topic.
And you'll probably ask people to leave a comment, and share your post on social media.
It all makes sense, doesn't it.
You're not writing your article for Google.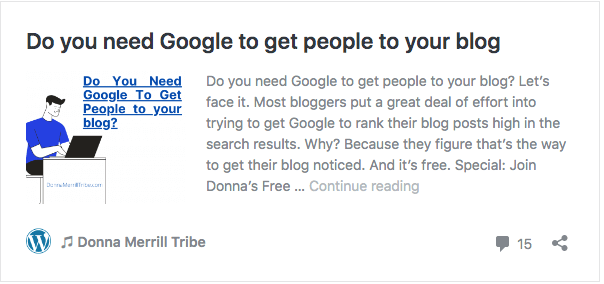 But you are writing it for your readers.
That's so they'll get the most benefit from it.
So, let's just talk about the best way to prepare your article for publication, doing exactly those same things.
Proofread your blog post
When you're done writing your article in your word editor, it's time to review it's key elements, and maybe even improve on them a bit.
This is something every blogger must do.
And that includes bloggers who hate SEO, too.
TITLE
You want to be sure your title includes the key words or phrases you have set out to write about.
I'm not going to get into details about choosing your keywords.
The point is, you had to start with some main idea.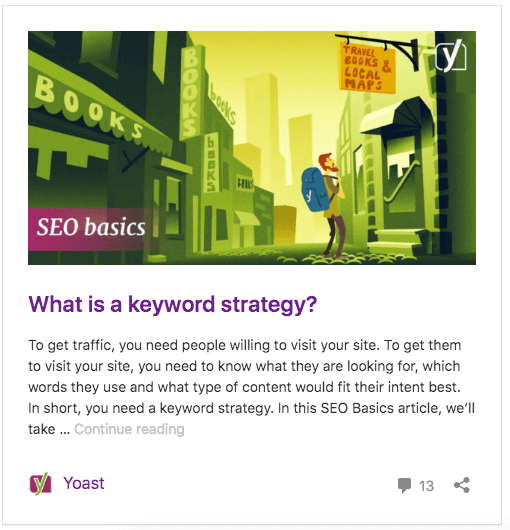 You can learn good Keyword Strategy to get
more traffic to your blog post from Yoast.
Even without doing "keyword research" (bloggers who hate SEO definitely hate doing that)… you still have an idea of what your blog post is going to be about.
Right?
So, let's say you write an article about "how to put a video on YouTube."
Well, without doing any research, you already know you're writing an article for people who want to know how to put a video on YouTube.
That's all there is to it.
Your keyword phrase is something like "how to put a video on YouTube," or "put a video on YouTube" or "YouTube video."
You decide.
Which one do you think your target readers would most likely search for on Google?
URL
Whatever keyword you chose, repeat it in your URL.
Make it something like "yourblog.com/youtube-video."
FIRST Paragraph
Make sure to repeat your keyword in the first few words of your blog post.
Something like this.
"Publishing a YouTube video is a good way to get more attention to your blog post or website."
LAST Paragraph
The last paragraph should summarize your blog post.
Using the above example, it could quickly list the ways you showed people to publish a YouTube video.
Put the keyword in the last line of your blog post.
For instance, "I hope you learned a lot about how to publish a YouTube video."
Then just sign off with your standard signature, and your blog post is done.
Improve your blog post
Even bloggers who hate SEO would like to get free traffic from Google, right?
So, you just finished preparing your blog post for final publication.
Now, the final step in your preparation is to think of ways you might enhance it.
Make it better.
Make it more appealing to your readers and to Google at the same time.
Here are some things you might try doing.
And when you do these things, it will help the search engines figure out what your article is all about.
That helps them point the right traffic your way.
Add images
Adding images to your blog post will make it much more interesting to your readers.
Nobody likes to read long blocks of text with no visual relief.
Break the monotony with images.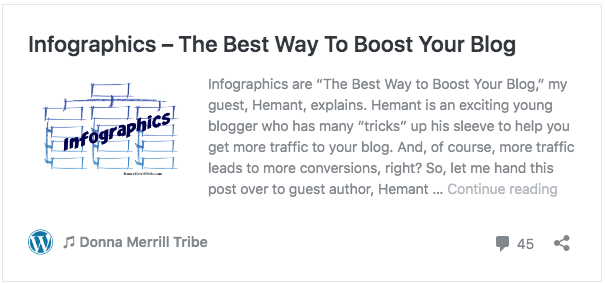 You can even use images that enhance your text, by illustrating points you are making.
And they don't have to be your own images.
They can be screen captures from other peoples' articles.
You must give credit to them, of course, but they can help you give visual appeal to your own blog post.
Meanwhile, they help you get your article found in the search engines by using images.
But you need to let the search engines know that your image is relevant to your topic.
Do this by adding ALT tags and meta descriptions to each of your images.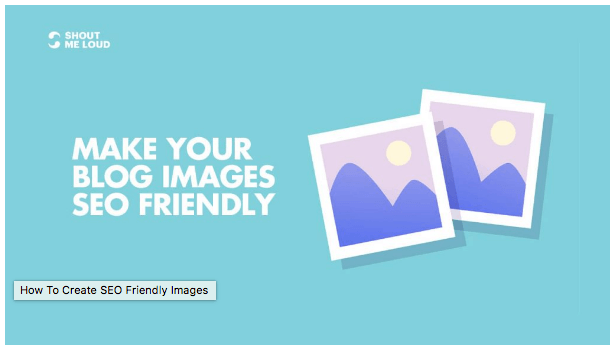 Harsh Agrawal shows you how to create SEO friendly images at Shout Me Loud.
Add videos
Videos are valuable in the same way that images are.
But they are probably even better for keeping your readers' attention.
People love videos that are related to the content they are reading.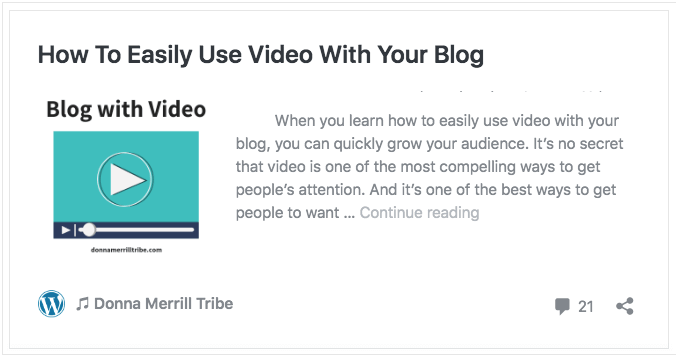 This is a great way to keep people on your blog post for a longer time.
That's a key ingredient in getting your articles a nod of approval with the search engines, too.
And, like with images, the videos don't even have to be your own.
You can embed other peoples' YouTube videos that are relevant to your article.
Add links
One of the most important things to do with your blog post is to add links.
You can use many link building tactics, but linking out to other sites is especially powerful for bloggers.
Of course, your links can go to your own blog posts as well as other peoples' content.
Both are very helpful in keeping the attention of your readers, and increasing their interest in your post.
It's also a very simple, yet powerful way to improve the experience people have on your blog.
That, too, helps raise your visibility on search engines.
Just make sure the links in your blog posts connect people to content that helps them better understand your topic and the solutions to their problems that it renders.
For bloggers who hate SEO
No matter how much you hate SEO, you can improve the quality of your blog posts while using some standard SEO techniques.
Even if you don't understand, and don't want to understand SEO… doing the things I've outlined above will help you get free traffic to your blog.
And that free traffic comes from Google and other search engines.

I'd like to hear your thoughts about this.
Please leave your comment below.
Let me know if you've found this article helpful for building your own blogging business.
Do you currently practice good SEO practices?
Do you make the effort to understand and apply the principles of blog post optimization?
Or, are you one of those bloggers who hate SEO?
-Donna
PS: Please share this article on your favorite social sites!