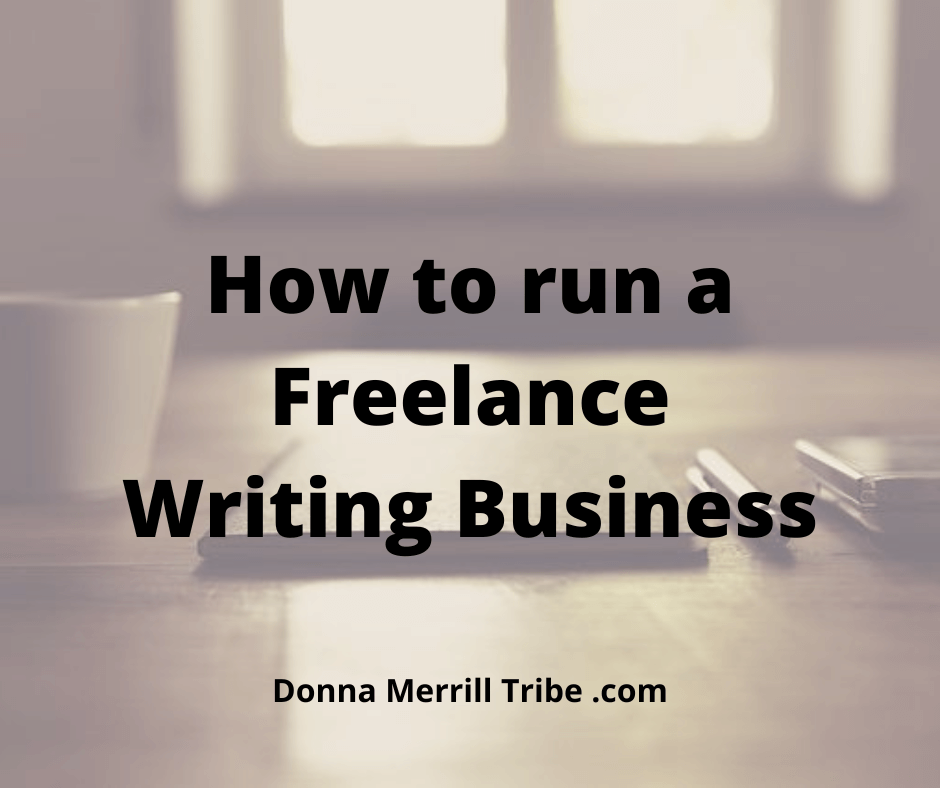 Many bloggers ask me how they can run a freelance writing business.
Makes sense, doesn't it?
If you're a blogger, then you're a writer.
So it makes sense that you might try to earn income as a writer.
Especially if your blog is not yet earning the profit you had hoped for.
So, as a blogger, besides writing for your own blog, you could also earn some income writing for other people.
But to run a freelance writing business, there are a few things you need to keep in mind.
Writing Good content
It should go without saying that you have to be a good writer.
Or, at least, you need to be willing and able to learn the craft.
Most bloggers I've worked with are good writers to begin with.
That's usually what attracts them to the blogging world.
But even good writers can learn a lot when they actually start to run a freelance writing business.
Write what your client wants
When you get assigned a topic, you need to immediately establish just exactly what your client wants.
Do they want you to write an instructional article, for instance?
Or do they want you to develop some broader historical viewpoint?
Running a freelance writing business is rewarding work.
But you've got to get started somewhere.
Gaurav Kumar, at "eAskme," gives you a quick roadmap to
start your freelance writing business.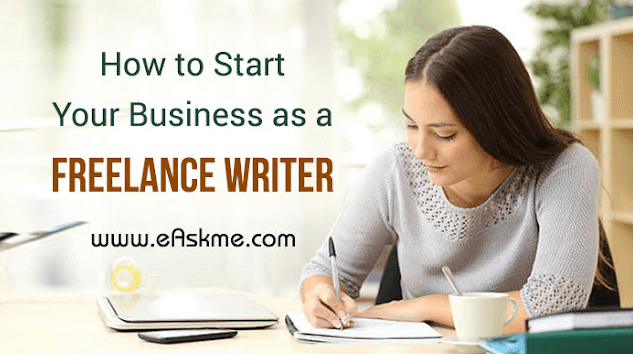 Would they prefer that you present an authoritative, expert demeanor?
Or are they looking for a humorous, conversational, brash or even controversial article?
Always know exactly what kind of content your clients want, and the tone you need to adapt.
Write what your readers want
Now, this can be very tricky.
It's not enough to know what your clients' audience wants to read.
You have to also clear that with your client, from their perspective.
The thing is, many clients are not all that sensitive to what their audience is looking for.
They are more interested in writing what they believe their audience should want to read.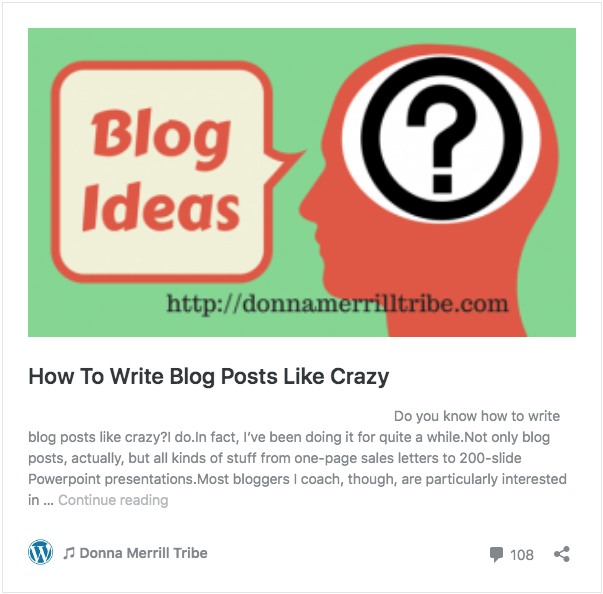 Running a freelance writing business is often about walking a fine line.
It will be necessary for you to get a really clear sense of who you are writing for, and what kind of content to develop.
Your client, for example, may want you to write an article about "why you should be opposed to proposition 3."
But your client's readers may prefer that you write about "the pros and cons of proposition 3."
With that in mind, you'd need to have a direct conversation with your client about what you believe the audience wants versus what they told you to write.
Come to an agreement on how to proceed before you start writing the article.
Otherwise, several bad outcomes might occur.
Your client is unhappy with what you wrote, and/or
Your client's readers are unhappy with it.
Either way, it will reflect poorly on your article if it's not well received.
So be sure that you let your client know your thoughts about what you are about to write.
And only proceed after the two of you come to an agreed position.
 Ghost writing
You want to run your freelance writing business as if you were a ghost writer.
In most cases, that's how you will be writing.
To be a good ghost writer, you have to remain "invisible" to your readers.
You see, the "author" of most freelance articles is not the writer, but the person who hires the writer.
Writer for hire
The business of freelance writing means that you are a writer for hire.
Your client will hire you to write an article, but only part of the payment is for your writing service.
The other part is for their ownership of the finished article.
In a "writer for hire" agreement, your clients will own the articles you write.
And they will own all the rights to use it in any way they want.
Typically, that results in your client using their name as the author.
This is one of the conditions of accepting a fee for your freelance writing assignment.
Looking for freelance writing gigs?
Check out The BloggingPro Job Board to see what's out there!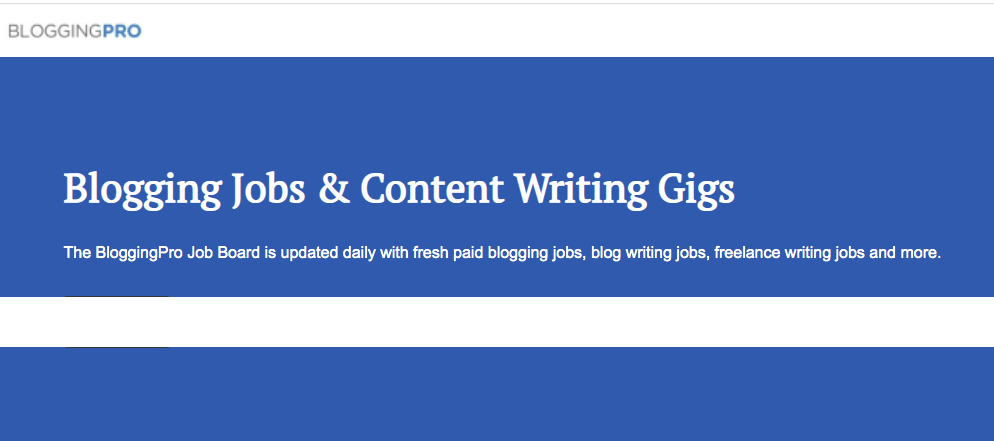 You are actually acting as a ghost writer in most circumstances.
Your readers will never know that you are the actual author of the article.
In fact, they'll probably never even see your name in print anywhere on the article or website that publishes it.
You remain "invisible" to everybody except your client who commissions you to write for hire.
Write in your client's voice
As a ghost writer, you are relinquishing authorship to your client.
So, remember this.
You need to run your freelance writing business to benefit your client.
That means, if your client intends to be the author of the article you are paid to write, it's your job to write it in your client's voice.
What, exactly, does that mean?
Only that if your client is the "author," then you need to make it sound like your client actually wrote the article.
If your client is friendly and down to earth, for instance, write this article with a friendly, conversational flair.
But, if your client is very business-like and serious, then your tone should reflect that instead.
The point is, discover what your client's "voice" is… how they talk, write and communicate.
Then write your article in that voice, not your own.
How to determine your client's voice
You can use various methods to learn what your client's voice is.
Of course, you can simply ask.
In fact, running a successful freelance writing business requires you to communicate closely with your clients.
I like doing interviews with clients.
It consists basically of a list of questions you need to ask and have answered.
Some of those things will be concerned with things like deadlines and rates.
But you should also ask how your client would describe their own "voice."
How do they want your content to come across to their readers?
This will help a lot because you want your client to be satisfied with the tone of your writing.
Besides interviewing your clients, you should also look at other things they've actually written.
This will show you very quickly what kind of style you should use to make sure you are writing in your client's voice.
Remember, you are writing the words.
But those words must represent your client's voice.
Be clear on your objectives
Any business must have clear goals and objectives.
To run your freelance writing business successfully, you should always know what you want.
We've been talking about what your client wants, and that's always your first consideration.
But you also have to enter every arrangement with a clear understanding of your own objectives.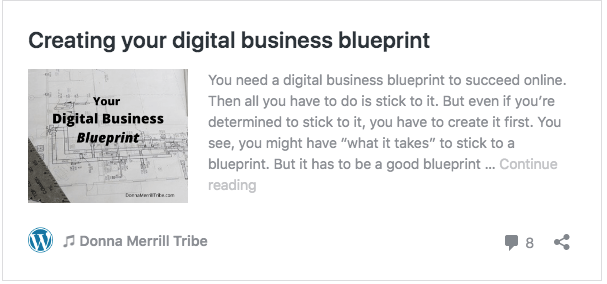 These are things that will make your business grow and expand.
Here are some key objectives you should always try to achieve.
Deliver fantastic content
Your top priority in running a freelance writing business is to always give your clients exactly what they want.
And, exactly what they paid for.
There are lots of things that might go wrong, or be misunderstood, or that are subject to negotiation.
But you always have to deliver fantastic content.
And it always has to meet all the requirements and specifications of your freelance agreement.
Make your articles pleasing to both your clients and readers.
And never cut corners or rush things at the expense of quality.
Deliver the product you promised, and make it so much better than your clients expect that they can't help but hire you to write more.
Make your articles engaging
A big part of doing a great job in writing your articles is to make them highly engaging.
And if you do a good job at that, you should get plenty of comments and grateful reader feedback.
Now, if you do an exceptional, over-the-top job at making your articles engaging, you should also get a lot of social media shares from people who really appreciate and benefit from your articles.
One of the easiest ways to make your articles engaging is to always address your reader directly and personally.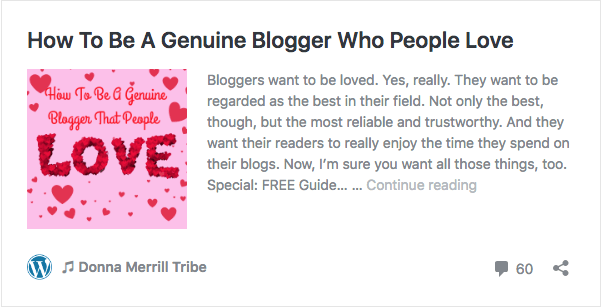 Let them feel like you're talking straight to them, and addressing their concerns.
Refer to your readers as "you."
Do not use third-person phrases like "anyone," or "people," etc.
Say things like "you should really adhere to this principle," as opposed to "people" or "bloggers" or "everyone" should adhere to them.
Being engaging is an important aspect of running a reputable freelance writing business.
Display leadership in your niche topic
When you write freelance content for your clients, you want to portray them as leaders in their profession, business or niche topic.
That's a sure way to make them appreciate your work, and offer you more assignments.
One of the best ways to portray their leadership is to link out to other leaders and influencers in their field.
For instance, if you're writing an article for a real estate lawyer, you might want to link to other professionals in related niches.
You might link to an article written by a noted real estate broker, or a title attorney, maybe a tax assessor, inspection engineer or even a mortgage banker.
All these people are professionals in fields related to real estate law.
If you can build good relations with people like that, you will garner lots of respect and recognition for your clients.
They will begin to rise as leaders in their profession, business or niche.
You will gain their approval and become indispensable to their business.
And maybe you'll even start to build your own relations with future prospects from the list of people in related niches that you mention and reach out to.
Build a testimonial file
Another big part of running your freelance writing business is to gather testimonials.
These will be important for your sales page, introductory emails or websites.
Prospective clients will be much more likely to hire you for their freelance writing needs if they see that others have been pleased with your work.
Here's two good ways to get some testimonials for your file.
Ask your clients
It's as simple as that.
Just ask your clients for their testimonials.
You might ask for a letter of reference or an honest review of your work.
It's all the same thing.
Then put them in your testimonial file for future use.
Collect reader testimonials
People leaving comments on articles you've written are also testimonials.
Even their social shares are testimonials, especially if they have a written comment attached.
Just bear in mind, though, that if your client is also the author of an article, you really can't use the testimonials, social shares or comments it generates.
You could, however, mention to a prospect that you were the ghost writer of an article.
Then share the comments and social shares it generated.
Collect direct referrals
Here, again, you just have to ask.
You see, when you run a freelance writing business, you must get used to asking for things, like social shares, testimonials, comments and referrals.
Otherwise, you'll probably get very few of them.
But when you ask, you are likely to be surprised at the generous response you can get from people.
So, ask your clients for referrals.
There's a pretty good chance that if they need to hire a freelance writer, they know other people who might be interested in doing the same.
Over time, the word-of-mouth buzz could generate some pretty solid prospects for your freelance writing business.
Turn your clients into your fans
Now you could take this approach a step further.
Besides asking your clients for reviews and testimonials, you could ask them to do a direct promotion for you.
One of the most effective ways to do this is to ask your clients to send a simple email to their associates (their email list).
You could (and you should) even write the email for them, permitting them to change it to their liking.
The email essentially lets people know that they were very happy with your freelance writing business, and that you come highly recommended to anybody else seeking a good, professional freelance writer.
Again, you'd probably be surprised how many of your clients are more than happy to help you out in this way.
Solicit additional assignments
Another thing you can ask your clients for is more work!
This is usually most effective if you first ask them for some honest feedback on the assignment you just completed.
Ask a few basic questions, first.
were you happy with my service?
what did you like most about the article I completed?
would you be likely to use my services again?
All this leads into your final question, the one you're really interested in the most…
can you offer me any new assignments at this time?
If the answer is no…
do you anticipate upcoming assignments in the near future that I'd be suitable for?
And finally…
I'd like to follow up with you on this. Would that be okay?
Solicit new assignments
One of the most strategic ways to run your freelance writing business is to solicit new assignments from connections you've made.
When you work on a freelance assignment, you are going to make connections.
These are all people you should solicit for new assignments.
Just contact them and ask if they'd be interested in assigning some freelance writing projects to you.
Who, exactly, are these people?
Well, they might be people who read your article.
Some of them might have even left comments.
They could have shared your article on social media, or mentioned it in a discussion thread.
Don't forget, too, the people whose websites you linked to in your article, or mentioned in your own social media networking.
It's pretty likely that they appreciate your mentions.
These are all people you could approach for possible new assignments.
Only a small percentage of them will be interested in your proposal to work for them.
But it only takes a small percentage to make a highly successful freelance writing business.
How to run a freelance writing business
I'd like to hear what you think about the ideas I've shared here.
Please leave me a comment below.
Do you run a freelance writing business now, or do you plan to in the future?
Or, do you have associates, clients or readers who do?

Many bloggers "moonlight" as freelance writers, or at least think about doing it.
I've given you lots of key ideas and strategies for making it successful.
What do you think is the most important strategy you could implement right now to improve the way you might run a freelance writing business?
–Donna
PS: Share this on your favorite social sites, too. I really appreciate it 🙂