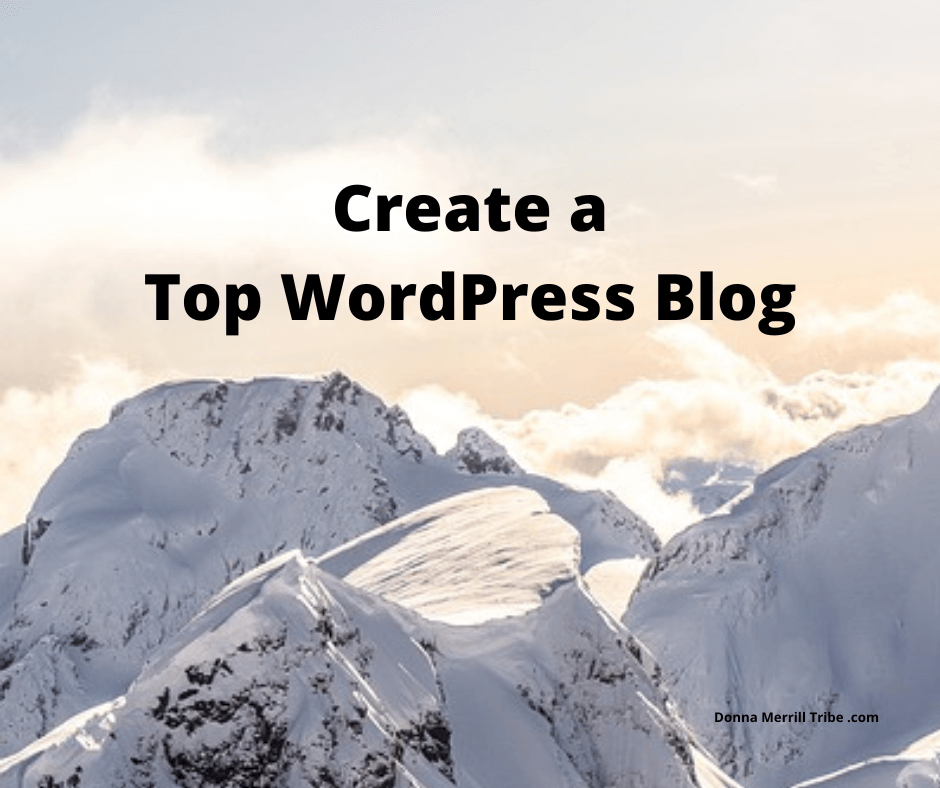 You can create a top WordPress blog fast.
How fast?
Well, that depends on so many variables, some of which are within your control, but others that are not.
Mostly, it depends on how quickly you want to get down to business, and how consistently you'll stick to it.
So, let's see precisely how you can to create a top WordPress blog fast.
Why WordPress?
There are many different types of blogs you can set up.
But to create a top blog as fast as you can, you can't do better than a WordPress blog.
You're probably wondering why it needs to be a WordPress blog.
Well, it doesn't have to be WordPress.
But I always suggest to my students and clients that they use WordPress for several reasons.
The most important reasons are that it is
Fast to create, and
Easy to set up
A WordPress blog is especially fast to create if you use a reliable hosting plan, which I'll talk about in the next section.
And once it's created, it's so much easier to set up than any other platform.
But you don't compromise quality for it's quickness and ease.
In fact, that's precisely why WordPress is such an immensely popular blogging platform.
WordPress dot org vs. dot com
When you choose a blogging platform, I highly recommend that you use WordPress dot org.
That's a far more professional platform to use than WordPress dot com.
The dot com site is free.
But it won't be your domain.
Your blog will be on the WordPress dot com domain.
So WordPress will retain full control over your blog.
On the other hand, for a very small investment, you can get a WordPress dot org blog.
Yes, you can create a top WordPress blog fast.
And then, you can grow that blog into a serious business.
GuestCrew has put together a huge roundup of blogging growth hacking tips
from some top experts who show you exactly how they get it done.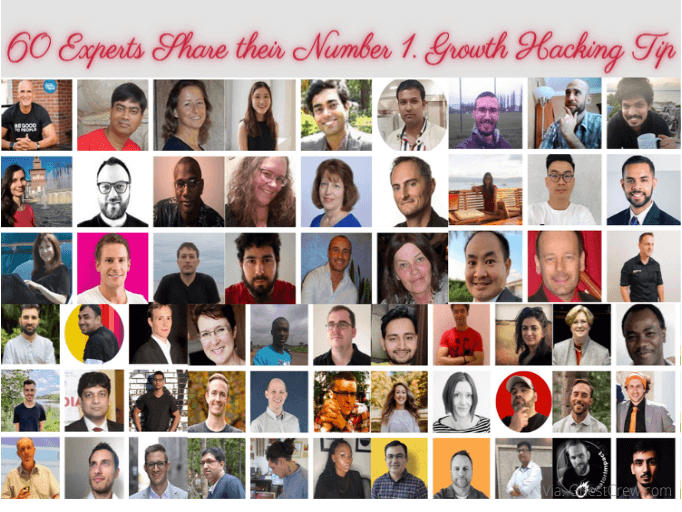 You won't need to pay anything to WordPress, but you will have to buy your own hosting plan and domain name.
That's a very small price to pay in order to own your blog outright, and have full control over it.
And you'll need that control to construct a top blog that can pull in business, income and an audience.
If you have any thoughts of trying to build a top WordPress blog fast, I'd strongly suggest you get started with a WordPress dot org blog.
In the rest of this article, I will assume you have chosen a WordPress dot org blog.
Get Hosting & Domain Name
As I said, you'll need to purchase a domain name and a hosting plan for your WordPress blog.
There are many web hosting plans available.
Most of them will give you access to instant WordPress setup, right from the dashboard.
So you don't even have to go to the WordPress site, or anywhere else to set it up.
Many even offer you a free domain name just for getting on board.
So the only thing you'll need to pay for to get started is the hosting plan itself.
You can start your WordPress blog fast by getting one of these hosting plans.
Then just choose a free domain name, and let your webhost set up your WordPress blog.
How's that for fast and easy?
Design
Now that you have a "live" WordPress blog, the fun begins.
You can get the look you want by choosing a good blog "theme" or design.
Again, there are so many.
A really fast and easy theme to use is called Thrive Theme.
Thrive Themes
I've used several Thrive applications and they really make your blog look and respond professionally.
What you really want from your theme is to help you build a functional blog.
It must look great, but it must also be able to do key things like
fast page load
build email list with popups etc
I think Thrive Themes is an excellent way to accomplish all these things.
With the Thrive Theme Builder, you can set up your blog in minutes with the site "setup wizard."
It comes with pre-made theme templates which means they're already designed for you.
Just plug in your own information to make it customized to your needs.
It's totally complete, including your header, footer, side bar… everything you need to customize your own site fast and easy.
Check it out for yourself.
Free WordPress themes
New bloggers usually want to use one of the free WordPress themes.
There are tons to choose from, so you won't have trouble finding them.
In fact, when you first set up a new WordPress blog, it will automatically default to one of the free themes.
These themes are fine for what they are.
But that means they are just basic and minimally suitable to building a top top WordPress blog fast.
And since they're free, you can't count on product upgrades or customer service professionals to help you along.
Set up your blog
Once your theme is in place, you'll need to do the basic set up for your blog.
Most of these are things are automatically taken care of by Thrive Themes.
But if you use other themes you'll probably need add these things to your set-up list to accomplish some of these things:
SEO optimization
Fast page loading
Mobile friendly
Site analytics
Proper legal notifications
Interactive Blogging
One of the best ways to create a top WordPress blog fast is to make it interactive.
People can get information from just about anywhere online.
Information is not what will make your blog stand out in the crowd.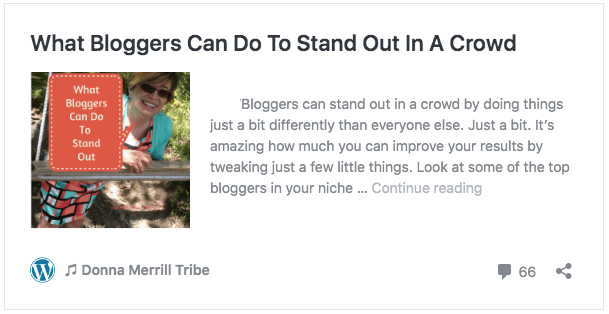 Building relationships with your readers is.
And that means your blog needs to be interactive.
But it won't happen unless you create an exciting UX (user experience) for readers.
There are two main ways to accomplish that.
Blog Comments
Interaction means conversation.
People don't want to just read a blog post and move on.
If your content is good, your readers will want to hang out.
That could mean clicking on other links in your blog post.
But the most engaging action they can take is to leave a comment.
And not only leave a comment, but also read other comments in the thread.
This is so important to making your readers feel like they are not just spectators, but participants on your blog.
So have a good comment system and monitor it.
Reply to comments
Read the comments people leave, and respond to them.
When I say "respond" I mean reply to their comments in a way that furthers the conversation.
You don't want readers leaving meaningless comments like "great article, thanks."
But that goes both ways.
Your readers don't want you to give meaningless replies like "glad you liked this post," or "good point, thanks for your comment."
You want your blog comments to talk to people… to engage them in the conversation.
Make them feel like you really value them, and appreciate their participation.
Social Media shares
Social Media shares were once thought of as "vanity" numbers.
You would do everything you could to get a big number of tweets or Facebook shares, for instance.
But numbers are not what you're looking for.
Social Media sharing is really all about having your readers reach out to their social media friends and contacts with a link back to your blog.
Content ambassadors are your greatest asset
You want your readers to spread the word as your unofficial content ambassadors.
But not just by linking to your articles.
That's nice.
But you really want them to be urging their friends to check out your latest blog post.
They don't do this by saying "read this," but by simply and subtly suggesting that they found value on your blog.
That's the message their friends need to hear in order to have their interest in your blog stimulated.
You know how important "viral activity" is on social media.
If you can get even a little bit of that moving in your direction, you'll be well positioned to create a top WordPress blog fast.
Keyword tools
Another key ingredient in your blog is some kind of keyword tool.
You see, keywords are what drive traffic to your blog posts.
Without the right keywords, you'll be attracting the wrong audience.
When you put keywords into your blog posts, people interested in your topic will be able to find them.
You also need to use keywords in your images, videos, titles and meta descriptions.
Be sure to use good meta descriptions
Meta descriptions are the snippets of text that tell the search engines what your blog post is about.
That's how they know where to rank your articles in the search results.
When people search for your topic, they can see what it's about from your meta description.
List building
To create a top WordPress blog fast, you pretty much must build a good email list.
When people visit your blog for any reason, odds are that they'll never find their way back to it again.
So you have to keep finding new visitors all the time and hope that a tiny percentage of them will be intrigued enough to come back.
But the odds of that happening become much greater if you can get some of these people to join your email list.
That way, you can always send out an email to let people know when you've published a new article.
So more an more of them will click your email link to read your newest blog post.
This is an easy way to grow your blog's popularity, and develop a loyal readership.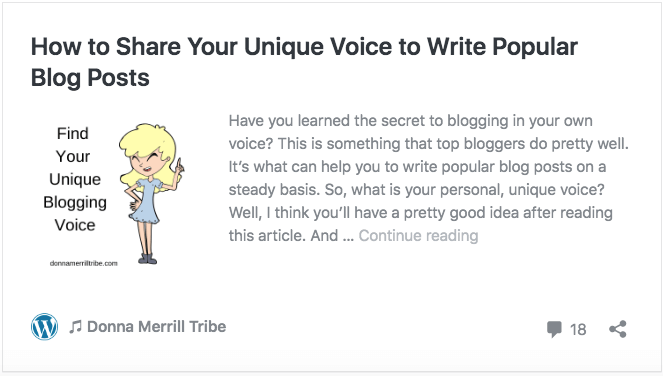 And it's certainly the fastest way to create a top WordPress blog.
Construct a landing page
To get people to subscribe to your email list, you'll have to ask them to sign up.
That's what a landing page is for.
It's a single web page that essentially says "Please join my email list."
Then it has a place for people to enter their email address to subscribe.
That's it.
Very easy if you know how to construct that landing page.
If you don't know how, you can get free landing page templates from GetResponse.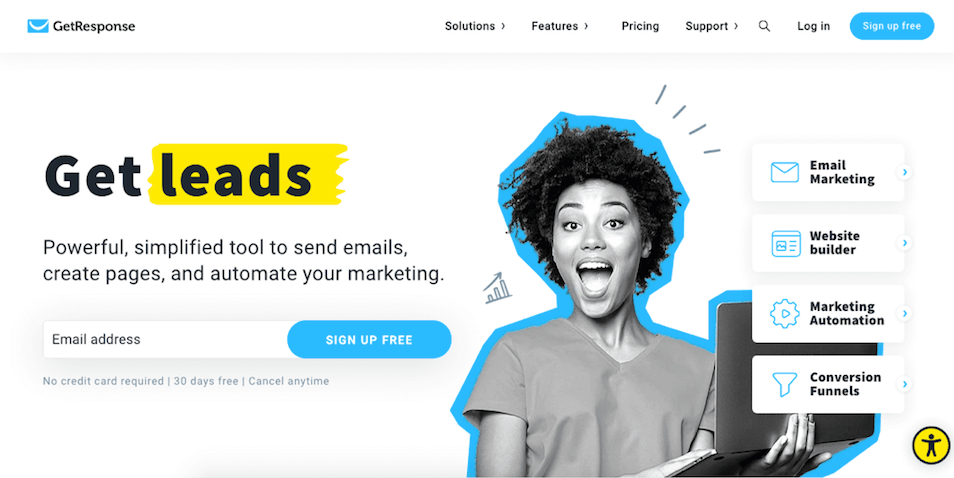 You'll need a good autoresponder anyway, and GetResponse is the best out there, in my opinion.
Embedded opt-in forms
Another thing you can do to build your email list is to put an opt-in form right in your blog post.
This is easily done through GetResponse.
Once people fill out their email address on your opt-in form, they are subscribed to your email list.
I told you, this is not difficult when you have the right tools, like GetResponse in this case.
Use a good autoresponder
So, finally, you'll need a good and reliable autoresponder to capture email subscribers.
Then, when they've subscribed, they'll be on your email list, and will get all your email messages.
Of course, you don't want to be writing emails day in and day out, so you can write them once and have them go out automatically.
That's the main reason you need an autoresponder like GetResponse… to automate your email delivery!
Create a top WordPress blog fast
Those are the key things you need to do in order to get your blog rolling.
None of this is difficult, but you do need the right tools.
I've told you about hosting your blog with a reputable website host.
Then, you have to find a suitable and effective theme, like Thrive Theme.
Finally, figure out a mechanism for building your email list.
Use a top notch autoresponder like GetResponse.
Now, you're in business.

I'd like to hear what you think.
Please leave me a comment below.
What do you think is the best way for you to create a top WordPress blog fast?
-Donna
PS: Please share this article on your favorite social sites!