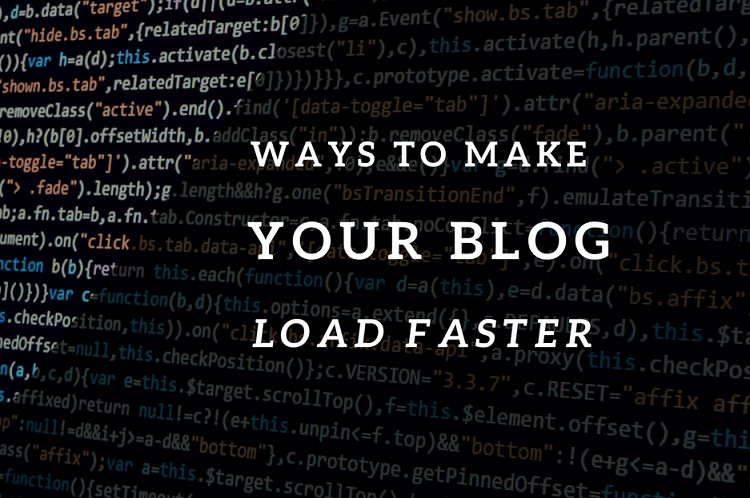 I'm sure you know, by now, that I'm no techie expert.
Yet, there's no doubt that one of the most important SEO metrics is site speed.
That's right.
If your blog is not loading fast enough, you could be losing plenty of traffic… free Google search traffic.
So, I'd like to introduce my guest writer, Jason Chow, who is an expert at this.
He'll show you exactly what you need to do to make your blog load faster, so you can enjoy top SEO results, and the free traffic that comes with it.
7 Ways To Make Your Blog Load Faster
by Jason Chow
It only takes a few seconds for people to decide whether they like your blog or not.
You could have all of the prerequisites down to having a good blog or website — gorgeous themes, awesome content, and great marketing.
None of it is going to matter if it takes FOREVER for your blog or website to load.
As a blogger, you can't overlook the importance of having a fast loading blog.
Speed is so important that even Google considers a website's loading speed as a ranking factor.
And we all want to be high up on Google's ranking list, don't we?
Statistics have shown that almost 50% of visitors expect a website to load within 2 seconds.
A delay of more than 3 seconds can make 40% of them to abandon your site completely.
Imagine how many potential readers that you'll lose just because your blog isn't fully optimized to load fast?
A blog that loads fast is very important for a blogger and if you want to make sure that it doesn't slow down, then read up on the tips and tricks that you can use to make your blog load faster!
1. Get rid of unwanted plugins
If you're a first-time blogger or website owner, chances are you're using WordPress as your platform.
One of the advantages of using WordPress is that they offer a huge library of plugins that you can use to improve your blog in many ways.
However, there comes a time when having too much can also be a disadvantage.
Consider this…
You've just set up your blog.
You're looking at the plugins and you start installing a whole bunch thinking that it'll make your website even better.
Little did you know, those same plugins eat up a lot of your server resources when running in the background.
This causes your blog to suffer massive slowdown!
Now, we're not saying you should abandon using plugins altogether.
Instead, keep these two tips in mind when it comes to installing them:
Disable or uninstall unwanted plugins — A good rule of thumb for plugins is to uninstall or disable whatever plugin you're not using on a daily basis (or at all). But, that's not the definite rule. The co-founder of WordPress website support service WP Curve,  Dan Norris, recommends 20 to be a good number. A number of potential issues such as site performance, speed and security, can arise if you do not maintain the plugins correctly
Use plugins that can do multiple tasks — More often than not, we tend to use different plugins for different functions (i.e. social sharing, mobile version converter, etc.) The problem comes when you install plugins that serve one function only. Imagine having ten different plugins for ten different purposes, that will definitely eat up your server resources. Opt for multifunctional plugins like the Yoast SEO which covers different functions such as analytics, sitemap and SEO plugins.
2. Find a better host
Want to quickly improve your blog load times?
Then consider signing up for the best web hosting company.
If you haven't signed up for a host, then take your time to find a hosting provider that suits your needs and demands.
For blogs or websites that are small and are fairly minimalists in terms of design and functionality, you can go for cheap and trusted hosting providers such as Bluehost or Siteground.
These are great if you're not an image/feature heavy website or expecting loads of traffic, as they have limited server resources for their shared plans.
Just be careful of plans with unlimited hosting as they often have caveats to them.
Once your blog grows bigger and you're getting more visitors, then it's time to consider more expensive options such as dedicated server hosting or premium hosting providers.
With dedicated hosting, you won't have to worry about other websites taking your server resources and causing your blog to slow down.
3. Choose themes wisely
Let's say that you're building a physical store for your brand.
Would you use cheap and poor materials to construct it?
Of course not!
The same goes for making a blog or website as well.
The themes you choose will not only reflect your brand but can also affect how well optimized your website will be.
If you're serious about blogging, it would be best to avoid using free themes as they could be a risk to your blog.
With free themes, they are often poorly coded and could also have tons of malicious codes in them.
That enables other people to hack your blog and drain its resources.
Are premium themes better then?
Unfortunately no.
Some paid/premium themes are also poorly coded and are not useful.
The best practice is to get the trustworthy WordPress themes from the trusted marketplace.
4. Optimize all of your images
It's often said that having images increases the visual appeal of a blog, so it's not uncommon to for bloggers to have a huge library of stock photos uploaded on to their site.
But here's the thing… the more images you upload, the longer it'll take for your blog to load.
Should you not upload images then?
Of course not!
Instead, optimizing your images is an easy opportunity to make your blog load faster.
You should do it before you upload them to your gallery.
You should always resize your images if they are very large before uploading them.
Plugins such as Smush It, which is a service from Yahoo, can be used to compress your images without you losing the quality of the image itself.
If you're using PNG files, you can try TinyPNG, which is one of the best sites to compress images without sacrificing quality.
Another plugin that you can try is the Lazy Load plugin which will conditionally load images when the reader scrolls down to the blog, instead of loading all the images at once.
With this, you can still have a lot of time to load images without affecting the quality of the user experience.
5. Consider using CDN
Content Delivery Network (CDN) is a network of web servers that are distributed around the world to help deliver your content efficiently to your readers.
It's a much more efficient content delivery system than a single server system.
Don't know what that means?
It basically means that your content will take less time to load for a user as the data will be placed nearby their locations, making it easier for them to download images and so forth.
There are plenty of CDNs available, ranging from free to paid.
For bloggers, it's recommended that you use MaxCDN, which is one of the best CDN's in terms of cost and features.
If you're looking for free CDNs, you can try CloudFlare, though it's very limited in its options.
For bigger sites, Amazon CloudFront offers the best in terms of performance and functionality for a premium price, though it's recommended for eCommerce or heavy traffic sites such as Moz.
6. Keep your ads to a minimum
It's important for a blogger to be able to monetize their blog and one of the ways to do that is through ads.
While housing ads on your blog are a great way to get revenue, it can also be the reason why your website might be loading slowly.
Ad banners and GIF images can take up a lot of your server resources.
So it goes without saying that you need to be careful with the number of ads you put on your website.
The suggestion?
Keep the number of ads to a minimum and compress their images as well.
Try different methods such as affiliate marketing, sponsored content or selling services on your blog to cover up on the ad profits you're missing out on.
Google Adsense offers the ability to put your ads in an asynchronous format which will not hamper the loading of your blog.
Always opt for that instead of synchronous format ads.
7. Use a caching plugin
A great tool for boosting the speed of your blog is to use caching plugins.
These plugins are very effective in terms of increasing overall page load speed.
Whenever a visitor loads up your blog, they have to load up contents of your blog from your server.
Loading content and data such as HTML files, CSS files, images, etc., takes time and uses far too many resources for your hosting server.
With a caching plugin, you can store your blog as static files on the server.
This makes it easier for users to load your website faster as they can just grab the static files instead of requesting and reloading all of the data again.
There are a number of caching plugins that you can opt for but the best ones are WP Super Cache and WP Total Cache.
Both plugins are great as they are super easy to set-up and use.
Generally speaking, WP Super Cache is better for beginners while WP Total Cache is more suited for those who want advanced features.
Conclusion
Google's guideline states that page speed will play an important role in determining their blog or website ranking.
Make sure that you stay in Google's good graces by making your blog load faster with the ways detailed above.
Just put in the effort to implement the methods such as caching systems or optimized images and you will see the positive impact on your user experience, search rankings, and more!
So now, it's your turn…
Is your blog loading fast enough?
I'd like to hear from you in the comments below.
Please share this article on your social media sites, too.
I appreciate it.
About The Author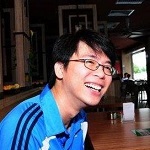 JASON CHOW is a fan of technology, WordPress and entrepreneurship.
He likes to read about news related to internet marketing and startups.
He believes reading and practicing what we read are important.
Get in touch with Jason on social media via Twitter.