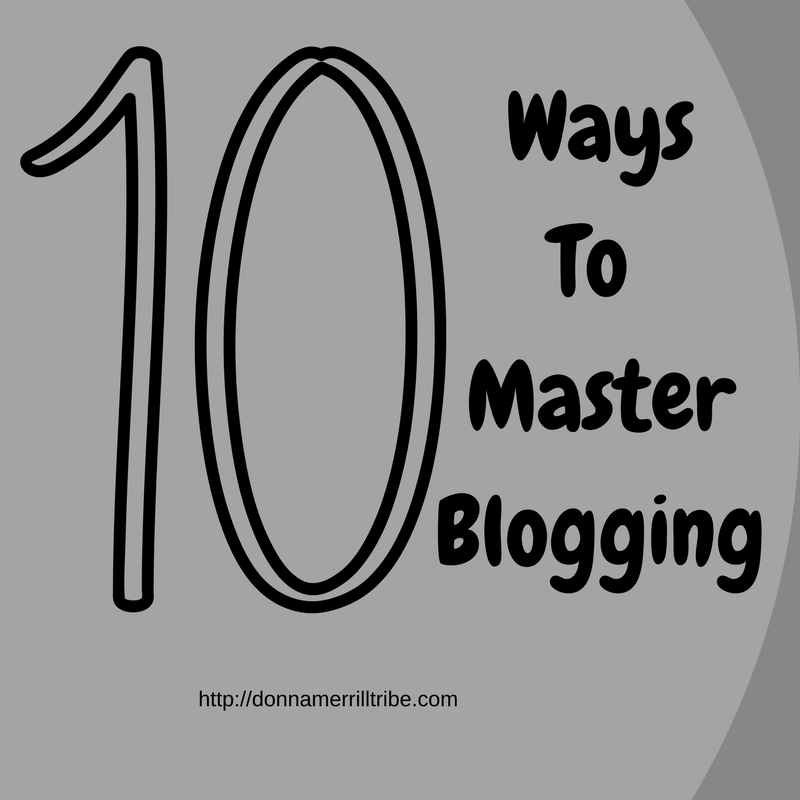 You are about to learn 10 Proven Ways to Master the Business of Blogging from some top experts.
I've talked about specific things you must do to get on track with running a successful blogging business.
But once you're all set up, you have to implement specific strategies to become a master blogger.
So let me turn things over to some of the top experts.
Pay careful attention, and I'm sure you'll be well on the way to turning your blog into the business you've dreamed of.
Being A Pro Blogger
So, one of the reasons I'm turning to some blogging experts here, is that you should see what other pro bloggers are doing.

Read the full article… This Is What You Need To Know If You Want To Become A Pro Blogger!
(by Freddy G. Cabrera, Internet Marketing Blog 101)
Now, Freddy is not talking about just hearing some ideas from other bloggers, although that's important.
He's also talking about deconstructing their business model.
In other words, see how they have built up their blogs into successful businesses.
Then pull that business model apart into it's smaller pieces.
What strategies and techniques are master bloggers using?
Then, start implementing some of those things into your own business, giving it your own unique twist.
See what's working for the masters, then make those things work for you.
Blogging is Not Just Writing
Understand, blogging is not just about writing.
It's so much more.
It's really about running an online business, using blogging as your hub platform.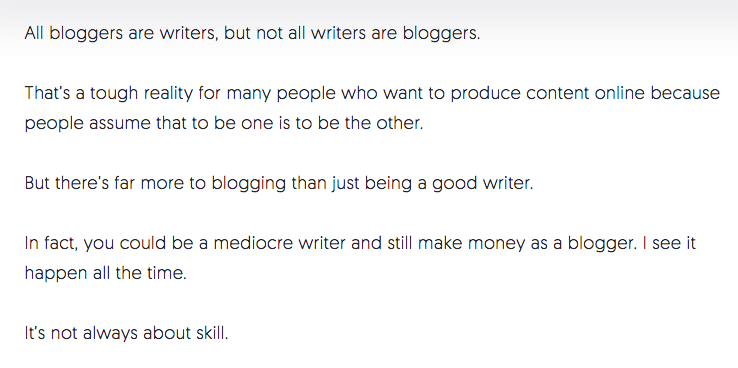 Read the full article… You're a Good Writer But Not a Good Blogger (by Neil Patel)
Productivity
The first thing you need to master in blogging, is to be highly productive.
Too many bloggers keep themselves busy, but don't really do the productive things necessary to build and grow their business.
Remember, master blogging requires productivity, not just being busy.
That's why so many busy bloggers are underachievers.
But here's something that might be just what you need.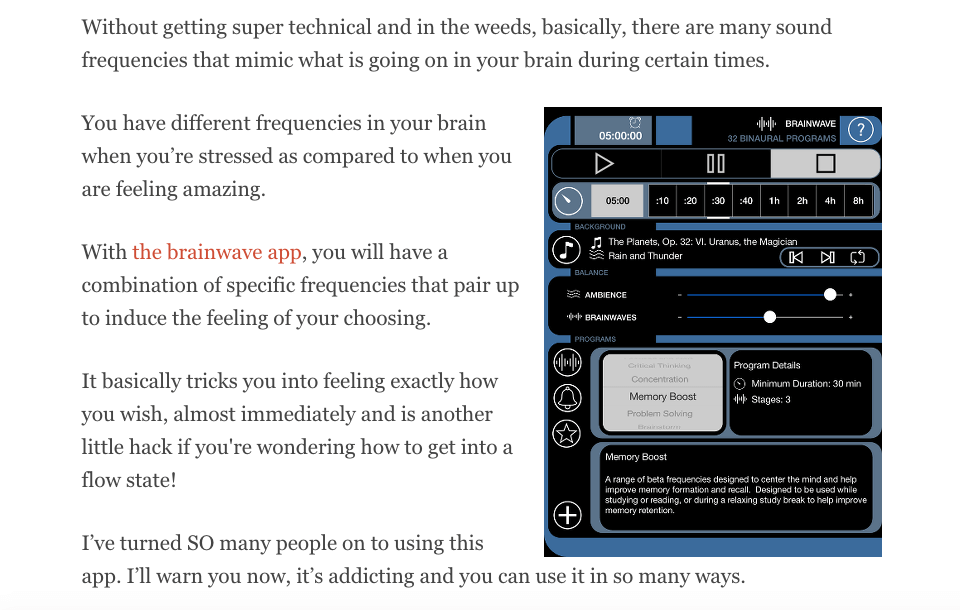 Read the full article… 3 Simple Ways To Get Into Flow and Be More Productive (by Joe Fier, Evergreen Profits)
Making Money Blogging
Ok, so the point to running a blogging business has got to be profit, right?
Remember, we're talking about a "business" here.
I've never heard of any business that didn't operate in order to make money.
In fact, that's the purpose of most "non-profits" too… only they call it "fund raising."
Anyway, before we get into all the things you can do to build your blogging business, let's get it straight from the get-go.
There is a way to start make money blogging that really is fool-proof and evergreen.
And it's not about any special tactics or technology.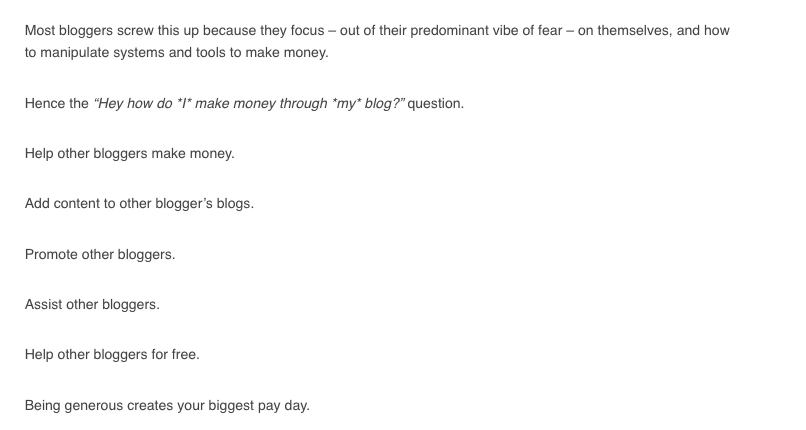 Read the full article… 3 Strategies For Making Money Through Your Blog
(by Ryan Biddulph, Blogging From Paradise)
Great Content
Okay, let's get into some nitty gritty.
In order to have a blogging business, you need content, right?
"Content" is what you use to attract readers and blog visitors.
It doesn't make money for you, directly.
But it gives you something to hold an audience… an audience that may ultimately become your paying customers and clients.
I think of blogging in this way.
Your content… blog posts, images, videos and such… are like a television show.
It's the stuff people come to your blog for.
To learn something, to connect with you or, like the television show… to be entertained.
And it's your job to create great, helpful and/or entertaining content so people will hang around long enough to "watch the commercials."
So, let's get down to creating great content since it really is the backbone of your blog.
Now, every blogger has faced the "blank page syndrome"… just staring at a blank page, knowing you have to write something, but just not knowing where to begin.
Is that you?
Ever?
Be honest, now 🙂
So anyway, for those times, here's some help for you ==>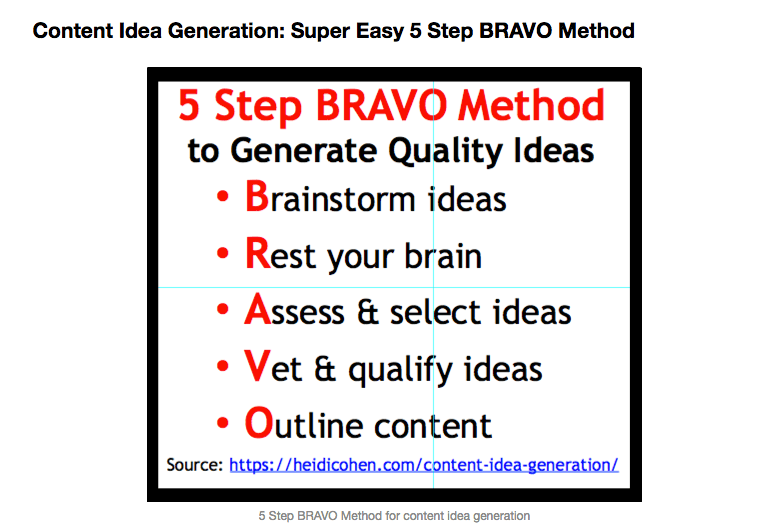 Read the full article… Content Idea Generation: Super Easy 5 Step BRAVO Method (by Heidi Cohen)
Repurpose Your Content
Now, besides generating wholly new content, you can also repurpose some of your previously published content.
It gives you great content "snippets" to use for microblogging, in addition to traditional blogging.
And trust me on this… you can generate massive results from microblogging.
Or you can just generate something entirely new, with a variety of repurposed versions of it.
This is a great way to get your main ideas out to your audience through a variety of content forms.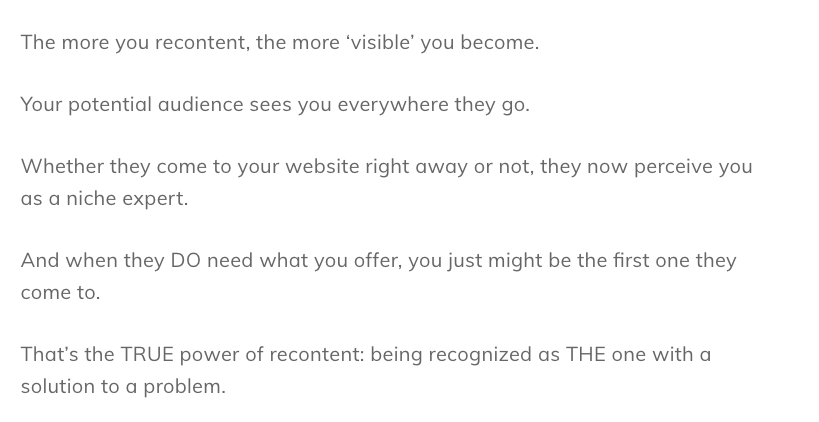 How much does Ana believe in recontenting and repurposing"? ==>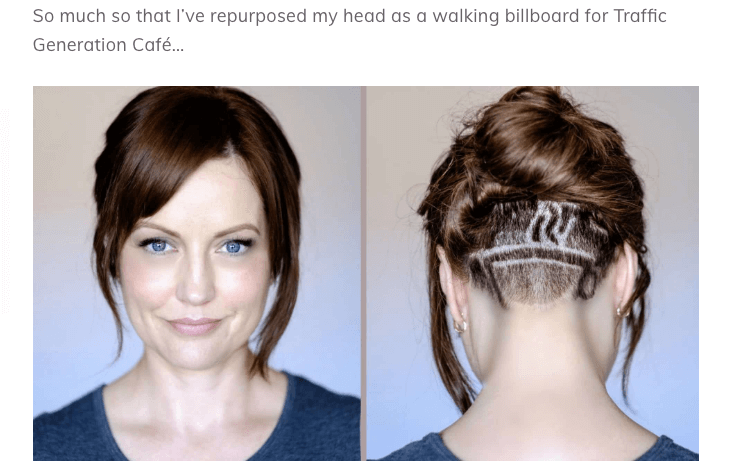 Read the full article… Content Repurposing: Getting the Most Bang for Your Content Buck
(by Ana Hoffman, Traffic Generation Cafe)
Promote
It's a great thing to have content and repurposed content "everywhere."
But creating it is one thing, promoting it so it actually appears "everywhere" is another.
That is a critical piece in the puzzle of running your blogging business.
So, you've done a superb job of creating some wonderful, powerful content.
I'm impressed 🙂
But you want to get your blog noticed everywhere, right?
So, now it's time to promote it hard to make your blog, and your personal brand known and trusted.
And, of course, to increase the amount of traffic that will follow you over to your blog… your primary content hub.
Now… how do you go about the task of promoting it?
Miroslav Chodak suggests you start here ==>


Not the easiest thing in the world to figure out, I know.
Easier said than done, as they say.
And really, that's just the beginning…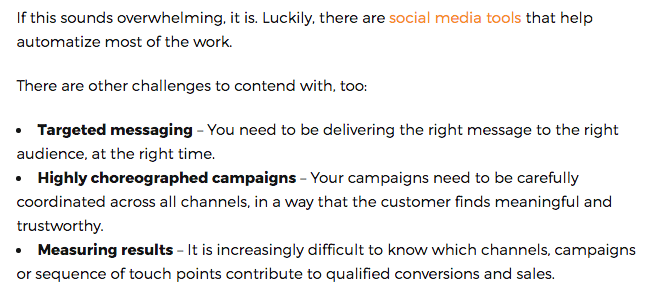 Read the full article… How to Increase Website Traffic – A Guide For Beginners
(by Miroslav Chodak, at Jeff Bullas .com)
So this is a challenge.
But you can do it.
No doubt.
Because now you know that these are the things you'll need to do… to master the business of blogging.
Get Free Traffic
Driving traffic to your blog is certainly the linchpin in running a profitable blog.
Without traffic, your blogging business just won't float.
But don't get caught up in the trap of thinking you have to spend a lot of money to make this happen.
In fact, paid advertising usually results in far inferior quality of traffic.
So let's forget the Facebook ads and all the rest of the paid methods for the moment.
Let's start by seeing what kind of traffic flow you can generate through free means.
In his article on this topic, Anil Agarwal goes through a long list of free ways to get that traffic flowing your way.
Here's a list of the free methods he details ==>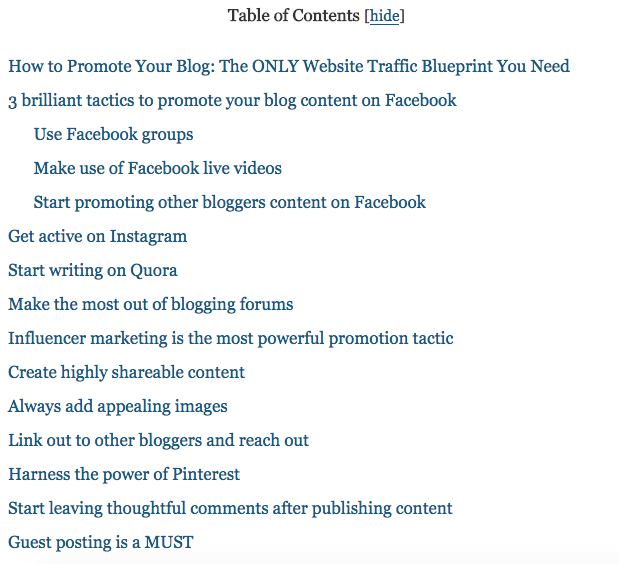 Read the full article… How to Promote Your Blog for Free to Explode Your Traffic In 2018: A Newbie Guide
(by Anil Agarwal, Bloggers Passion)
Blogger Outreach
One of the fastest ways to start getting the traffic flowing your way is through a strategy called blogger outreach.
It's really a blogger-specific form of "influencer marketing."
It looks like this ==>

Sounds great, right?
But which influencers in your niche should you start reaching out to?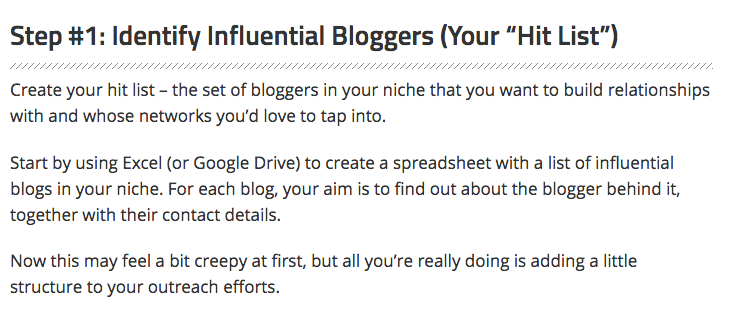 Okay, so that gets you started.
Now if you want to learn a lot more about how to implement a winning blogger outreach strategy, read more from Brian Dean xxxxxx.
Here's what you stand to gain ==>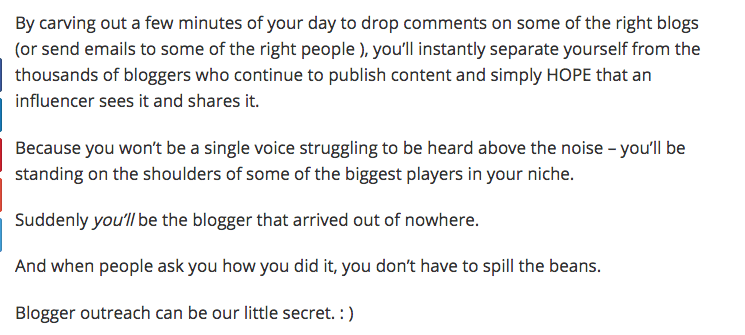 Read the full article… Blogger Outreach: How to Get Influencers to Promote Your Content for Free
(by Brian Dean, Smart Blogger)
What About Blog Conversion?
Well, this takes us back to the beginning of this article, doesn't it?
You'll never master the business of blogging until you start getting strong blog site conversions.
Sponsored …
If that language is a bit strange to you, it just means that when people visit your blog, they need to buy stuff… or hire you… or become your client.
It means that you need to take advantage of those times when your lead shows interest in what you blog about.
In other words, your blog has to be able to "convert" them from "reader" to
"subscriber"
"buyer"
"client"
This is where your profit base will begin to shape up.
But if it's not, then you should look to Zac Johnson for some help ==>



Read the full article… 5 Possible Reasons Your Website Isn't Converting (by Zac Johnson)
Now, Zac is an expert in getting blog conversions, so do make sure to read his article if you're having trouble at this stage of the game.
10 Proven Ways to Master the Business of Blogging
So now that you've been give some Proven Ways to Master the Business of Blogging, it's your turn to step up to the plate.
Consider how even one of the things you've just read about can help improve your blogging business.
Or even turn it around altogether.
Learn More About Donna's Popular Top Tier Coaching Program for Bloggers

And take a moment to connect with me about your blog.
What is your biggest challenge right now, in going from "running a blogging business" to "mastering your blogging business?"
Which of the 10 Proven Ways to Master the Business of Blogging speak loudest to this challenge?
And don't forget… share this article on your social sites so others can be part of the conversation, too 🙂
-Donna