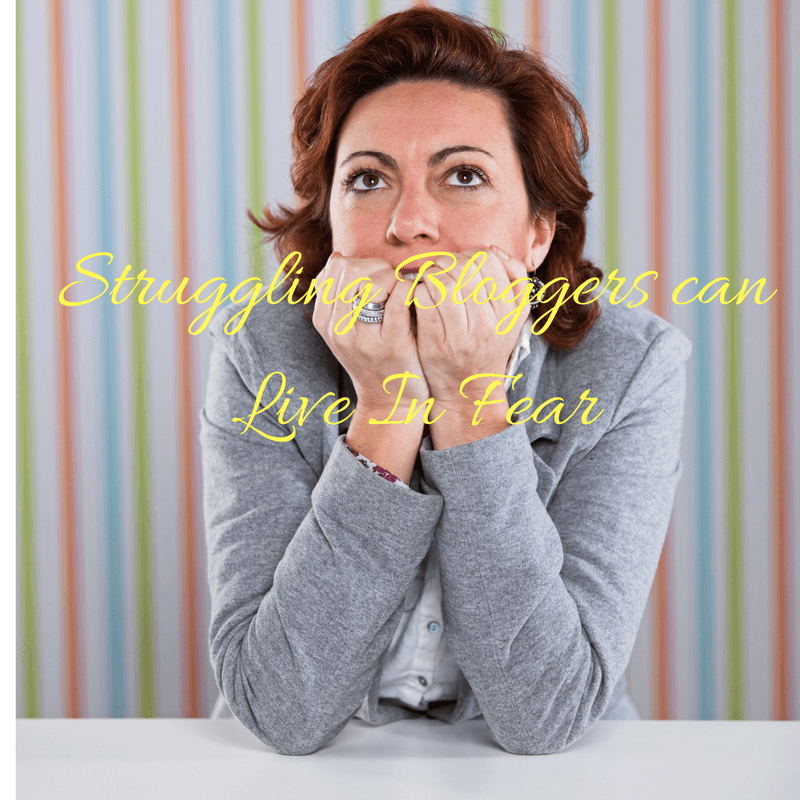 Many struggling bloggers live in fear.
These are the ones I've worked with who come to me because they can't get things done.
They can't seem to get the traffic, following or income they want. 
Sure, many of them have half a notion of what to do… dabble in dabble in that.
But they just don't know how to put all the pieces together to create a successful blogging business.
The fact is that most of these people don't lack anything other than the ability to take action.
Most of them are very smart in fact.
But maybe too smart for their own good.
Do you think you need to know more and more before you can pull the trigger on even a simple tactic?
Or, do you stammer and stall each time you get to the tipping point of something that you're trying to accomplish?
What holds struggling bloggers back is their fear to move forward.
Most find a place that they're comfortable in, and just stay there.
They won't put some money on the table or complete a significant task at hand.
Just can't do it.
Instead, they lock up in fear and curl up in a cozy corner called familiarity.
There is no
growth
exploration
expansion
Does any of this resonate with you?
Are you a struggling blogger?
There is a way out.
The Leap of Faith
The biggest fear is taking the leap.
Result: no action.
I guess the biggest fear is simply what I called jumping off the cliff.
That's when you don't really know what the results of implementing a new strategy are going to be.
Maybe it will work.
But maybe it won't.
You'll never find out, though, if you don't have faith in your ability to make it work.
So instead, you procrastinate.
And you might never think this procrastination is just another form of fear.
You might think it's being careful or clever or doing due diligence.
But it is usually just plain old fear.
Before jumping off the cliff you have to study more, right?
Or maybe you have to see how many other people have succeeded at some strategy you're about to launch.
Social proof, I guess you'd call it.
I often call it "consensus taking."
Consensus Taking
Perhaps you want to spend some time talking to other people about it.
Do they think it's a good idea or a bad one, and so forth.
You might want to ask your friends what they think of it.
Perhaps you'll put out feelers to your email list.
Run a survey asking them if they'd like to have you implement this new strategy that you're considering.
Keep asking, that's fine.
But in the meanwhile, start taking action to see how people actually respond, not how you think they will.
Just Try It
I can't tell you how many times I've discussed a new plan of action with a struggling blogger.
You see, I'm actually answering a question they have.
Trying to help them solve a problem.
They're stuck somewhere in their business and need direction.
This might happen in a webinar or during one of my live coaching calls.
Then, 3 months later, the same person attends another event and asks me the same question.
"I'm stuck.  What can I do?"
When I ask how they made out with the strategy I had outlined for them 3 months ago, I get silence.
Then, an answer like this… "Well I didn't get around to trying that yet."
So why are they asking me again 3 months later when my answer is going to be the same?
I think the answer is that they're just frozen in fear of pulling the trigger.
So they make excuses.
Maybe this strategy is going to fail.
Maybe they're going to spend a few dollars on advertising or whatever and lose that money.
They are not absolutely 100% sure that this is the right strategy to take so instead they take no action.
Or, the strategy sounds like it will work, but it requires too much work.
Then there are those who will actually take a quick stab at implementing it, but after 5 days of not getting earth-shaking results, they decide it's "not working."
Most of these struggling bloggers will usually will go on to something else.
They hear about some "new" thing, and they try that.
When all these things fail, then they contact me again.
Again, they ask "What can I do to solve my problem?"
When I remind them that we discussed this before and I've already answered that question, they're not happy.
They thought…
Maybe they would get a shiny new answer.
Perhaps something easier.
Maybe something that doesn't require work.
Or a strategy that is risk-free.
Maybe an automated "push-button" solution they can use to make money in their sleep.
When I assure them that none of those things will work, they often resort to magical thinking.
Maybe if they just wait long enough, time itself will change things.
Whatever they're doing that leads to failure, will suddenly start working.
But you know what.
Nothing is going to change.

Not as long as you're afraid to take action, risk failure and even accept failure.
So, you know what?
Get over the fear and procrastination.

Just try it.

If it doesn't work, then, believe me… you'll be a step closer to success.
Lack of Knowledge
A lot of people are afraid that they don't have enough knowledge.
They just think they have to learn everything about a strategy before they can implement it.
Ryan Biddulph discusses this common fear
in his guest post on Build Your Own Blog: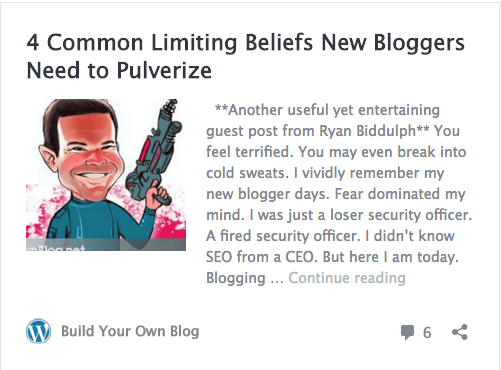 Read the full article here: 4 Common Limiting Beliefs…
People think that if they want to write a 10-page eBook on a topic in their niche…
they'll spend 6 months researching it.
then they might spend another 4 months writing it.
after all that they probably think it's still not good enough, and so they start all over again.
But before restarting, they…
buy a course,
spend time reading
spend time talking in forums
take notes.
Oh yeah, notes… they take notes upon notes upon notes.
And they get real good at collecting knowledge about what hurdle they need to clear.
They probably even spend a fair amount of time looking for the perfect app to organize their notes.
But because they're so afraid of doing it wrong, they never actually take "the leap."
They never take that leap of faith because they have no faith in themselves.
I keep asking this, but again…
Does any of this sound familiar to what you've done?
CASE IN POINT
I'll give you a quick example of what I'm talking about, just so you can see that I screw up, too.
And when I do, it's usually because of fear.
A few years back, I decided that it would be a good idea for me to take my business a step further.
I thought a great strategy for me, would be to use webinars to deliver conent in my training courses.
Well, of course, there was some technology to struggle with.
And so I spent some time doing that.
Actually, I spend a LOT of time doing that.
But it didn't end there.
Next, I had to learn the best way to put together a slide presentation.
So I dealt with that for a while.
Then there were different webinar platforms that I could use.
I tried out one then another then another.
None of them gave me everything I wanted.
And my slideshows were not perfect.
So I watched some other people doing webinars.
Their presentations were so much better than mine 🙁
I was convinced that I could never do it as well as them.
So I stopped altogether and just decided I wasn't going to do webinars.
Several times I went back and forth with this "maybe I should" vs "maybe I shouldn't" struggle.

To this day, I'm not sure of everything that made me so afraid.
But I'll tell you what got me past it.
One day I just decided I had to do it.
So I actually sold a course that promised to include webinar training.
Mind you, I had no idea how to do a webinar yet.
But as soon as I released the sales page and started making sales, I knew I was going to have to do it.
My wakeup call: my first webinar was going to happen.
In fact, there was a date on it.
I had promised people that I'd be delivering content via live webinar on a specific date.
Well, I don't know how I did it.
But somehow, when that date that time came, my webinar went forward.
I had found a good platform and my slideshows were prepared.
It was not perfect.

I'd probably be embarrassed for you to see the replay.

But I did it.
PS: I've done so many webinars since then, that I've lost count.
Replace Fear With Action
Webinars have become just a normal part of my business, now.
No more fear to tell people that I'll be delivering content by live webinar.
And I'm not even afraid when I do the webinar.
It just rolls.
So…

What was the difference between then and now?

Here's the deep secret: the difference is that I finally just did it.

How?

I finally just rolled up my sleeves and let it happen.

That's all.
I simply stopped being afraid and started taking action.
It was never perfect and it is not perfect now… a lot better… but far from perfect.
Webinars have become a solid part of my business.
People thank me all the time for doing them.
So, what's your story?
What's your big fear?
What action can you replace it with?
No Technical Skills
Okay, so I know a lot of people do not have the technical skills they need to run a great blogging business.
Are you afraid of some technical aspects of your business?
Maybe you can't build a sales page.
Perhaps you don't know how to put together a sales funnel.
You know, the front ends, redirects, download pages and all that.
You might not even know how to create a squeeze page.
And that's probably the single most important thing you need.
Then there's WordPress, or whatever blogging platform you use.
Maybe you don't know how to fix things when they go wrong.
Or you might not know how to
center images
create infographics
stick a video up on your blog.
All these things, and many, many others require some technical know-how.
Does that scare you?
That's fine.
As long as it doesn't stop you.
You see, it's okay to not have that technical knowledge.

It's not okay, though, to stop yourself from progressing because of it.
If you don't know how to do something, you can always hire somebody to do it.
You can even ask for help from somebody, like a blogging buddy.
There's always a way to work around your lack of technical skill.
But there's no way to work around a fear so profound that it prevents you from taking necessary actions.
I don't have a lot of technical skill.
I know how to do some things.
But most things I get  help with.
Technology scares me sometimes.
But it doesn't scare me enough to stop me from doing things.
I just make sure to get things put together one way or another, and then move forward.
Don't Get Stuck In The "Do-It-Yourself" Trap
Struggling bloggers, however, very often never get past their lack of technical knowledge.
Instead, they dwell on how to do things.
They take courses on how to do them.
Maybe they take a course and how to edit videos.
It's pretty easy to spend months learning to master WordPress.
But these are not the things that will make your business successful.
Help your readers improve their lives.

That's what will help your business move forward.
And those people that you help, don't care how much technical knowledge you have.
Not one little bit.
They only care that you can deliver solutions to their problems.
Afraid of Selling?
There may be no bigger fear in blogging than the word selling.
Nobody wants to sell.
Everybody wants to teach, inform and entertain.
But nobody wants to sell anything.
By the way… they all want money.
Most struggling bloggers want to earn a living from their blog.
Don't you?
Most bloggers go from one technique to another…
one tactic to another
just trying to learn how to make money blogging.
But they don't want to sell anything.
Selling is a scary word.
Did you ever build an email list…
…and then freeze up because you felt pressured to start selling things to your subscribers?
Lots of bloggers have been there.
Why?
Because everybody loves to give value.
It makes them feel good about themselves.
They feel like they're adding substance to their business.
And they actually believe that by
just adding value
being nice
making friends…
…that somehow they're going to have a profitable business.
But they don't.
Why?
Because they're afraid to sell.
They're scared to death to bridge the gap between

'I've been giving you all this great valuable information'

-to-

'How about now you buy this from me?'
The dreaded moment has come.
It's time to ask your followers to buy your course, training, service, coaching or whatever you have to offer.
Struggling bloggers or very often so afraid of the "S" word that there's just no way they're ever going to ever bridge that gap.
They're never going to stop giving and start selling.
And if they're not going to take action on selling, then guess what.
They're probably not going to get the results that they want from their blog.
Instead of being a pro blogger, they'll be stuck being a struggling blogger.
Bloggers who
dwell on giving valuable information
but never learn how to sell
and never take the leap to asking people to buy something from them…
… are what we call a "hobby bloggers" … not professional bloggers.
Fear Of Investing
Another big fear is that of investing.
That means spending money.
But it's not spending the money that scares people so much.
Most bloggers will buy things like courses and software and cool automation services.
But they don't want to spend money investing.
They'd rather just start buying stuff promising…
a quick fix to an immediate issue, or
some "secret system" that will create sudden profits.
But investing means spending money on learning the real work and strategies involved in building a business.
This kind of spending is an investment.
It's an investment in yourself.
It's an investment in learning how to build and grow a business.
This usually means coaching or mentoring of some sort.
Few struggling bloggers will ever succeed unless and until they finally get some professional coaching.
They don't know how to put all the pieces together.
But they try.
It's not usually a very happy ending, though.
You just can't build a really successful blog if you're not ready to invest in yourself.
If you're afraid to take some money out of your pocket for things that really matter, then you're probably going to get stuck in neutral.
But like I said before, struggling bloggers are not usually afraid to spend money.
They're just afraid to invest in the coaching, consulting and training that they really need… as opposed to the
gimmicks,
sexy software, and
trending apps
…that they won't even remember buying a few months down the road.
It's easier to spend money on magical promises and 7-step systems that lead you down a dead end street.
Often, bloggers fear investing in coaching because they don't want to be pushed into doing the real work required to build a blogging business.
They have a knee-jerk fear of actually making that commitment.
And I don't even think it's because they're afraid to work hard.
I think they're afraid to invest time, money and effort into something that may fail.
They want to avoid the possibility of friends and family thinking they are "a failure."
Somebody might call them "dumb" for putting money and time into something that never had a chance to succeed.

They're afraid to look foolish.

So they don't invest in quality consulting.
Instead, they just skirt around the edges of their business by
learning a few things
buying a few courses, but
never really taking meaningful action.
They'll buy, but they won't invest.
Make it your job to find a good mentor and start getting things done.
There are many good mentors who can help you get on the right track.
In fact, you might want to check out one of my popular mentoring programs…

Struggling Bloggers Live In Fear
It all pretty much adds up to this.
If you're afraid to
take action,
put yourself out on a limb,
take a chance, or
risk failure…
… then you're probably going to continue struggling as a blogger.
Not ready to take some risk yet?
Well, if you're just standing on the edge of the cliff saying "I'm gonna jump," but yet you never do…
then you're just going to continue struggling.
If you never jump off that cliff, you'll never find the success you're looking for.
But you can be one of those bloggers who will.
If you're struggling because you're afraid to implement things, that's okay.
Every blogger has struggled with the fear of taking action.
Just know that it's time for you to put those fears behind you.

Start putting things into motion, no matter what the results are.
You can be one of those bloggers who will do
something
anything
even though you know it's not perfect.
Stare down your fears and overcome them.
Not because you're not afraid… but because you are determined to succeed.

So again, what are your fears?
What holds you back?
How do you plan to get past those fears?
Do you agree with me when I say that most Struggling Bloggers Live In Fear?
Let me know your thoughts in the comments below.
I can't wait to get some feedback on this topic.
It's one that's so important, and I want to know what you think about it.
–Donna
PS:
Be sure to share this article on your social sites.
Many of your friends and followers on social media know first-hand that… struggling bloggers live  in fear.