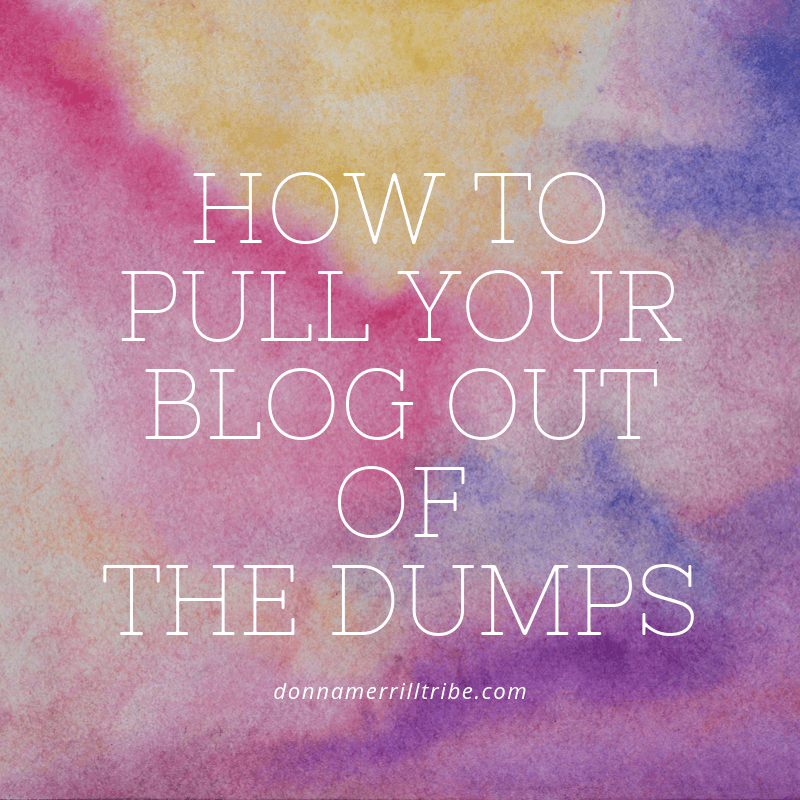 Let's talk about how to pull your blog out of the dumps.
I've already talked about reconnecting with WHY you started a blog. 
That sets the foundation for rebooting your struggling blog.
Now I'd like to show you how to get started.
And how to begin putting your blog back on the right track.
Don't try to do this along
If your blog is not getting the results you want, think about this.
Have you been getting some good assistance along the way?
Are you networking with other bloggers in your niche?
Do you actively participate in blogging groups?
Have you worked with a blogging coach?
Getting your blog out of the dumps takes insight, strategy and work.
And you can't do it alone.
Connect with other bloggers and a good blogging coach.
Let them steer you in the right direction.
And let them help and motivate you.
Now, let's talk about just a few common things that might be causing your blog to be in the dumps.
Your blogging niche
Are you blogging in the right niche?
Well, to know this, you have to answer a few other questions first.
How do you want your blog to… 
change the lives of your readers and followers?

affect your career?

drive your business or profession?
Keep your answers in mind as you start exploring possible niches to blog in.
It will point you to your passion… the niche that can best help you change lives, build your career and/or get clients and customers to your business.
Next, figure out your broad niche preference.
Top blogging niches
This has pretty much been the same for years.
And it's not likely to change any time in the near future.
The three main categories are 
Health and Wellness

Relationships

Finances and Money
But of course, you can't blog in one of these broad niches.
If you are already doing that, it's probably keeping your blog from performing well.
Narrow down to a sub-niche
What you need to do is break down one of those categories into a subcategory.
Then just keep getting more and more narrow in your niche focus.
Say you are interested in health and wellness.
Then you probably want to blog about something very particular within that niche.
Diet and nutrition might be a good sub-niche, for example.
Or you can break it down even more and make it all about the Paleo Diet.
You want to follow this process for any niche you choose.
The more you can break down that niche into a sub-niche, the greater the likelihood for finding a very well-defined, targeted audience.
Stop blogging in broad niches
If you keep blogging in a broad category without defining a very narrow niche, then you are probably going to have a blog in the dumps.
And it will most likely continue to stay there. 
Because your audience will too big.
With the limitations of your budget and personal capabilities, you just won't be able to keep up with it. 
You will always be fighting against the big guys. 
The big guys have unlimited budgets and usually staffs of people to help them kick out content for a broad audience.
But you don't.
So work within your means and abilities. 
Share your content
Your blog is in the dumps if you are not sharing your content.
It's great to write good content for people.
But you have to get them to see it.
It's like going out and buying a beautiful new outfit and then staying home.
Who cares about your new outfit unless the get to see it, right?
So you have to think… "what people do I want to see my new outfit?"
Then you go out and mingle with that crowd.
In other words, create great content for your niche.
But then make sure you're sharing it with people who are interested in it.
Get others to share your content
It's not always easy to share great content.
But you can get others to share it for you.
When you interact with other bloggers strategically, they'll share your content.
Get active on social accounts
Share stuff for other people and they'll share stuff back for you.
Keep connecting with people within your niche.
That way, they get to know you.
Over time, you'll build a relationship with them.
Create reciprocity
From there, you enter an area of reciprocity.
You help them by sharing their content, and they help you in return.
Get influencers on your side
You can also get influencers to share your content.
Of course, you can just reach out and connect with influencers and ask them to help you out.
But the more effective strategy is to first be an ambassador for them.
Talk about what they do and link out to it in your blog posts.
In time, they will start to notice you.
Then when you ask them to share something for you, they're far more likely to do it.
Offer content upgrades
If your blog is in the dumps, it's probably because people are not seeing value in what you're doing.
One of the ways to give them value and build your business at the same time is to upgrade your content.
A content upgrade is simply an extension of an idea you've been developing in your blog post.
For instance, you could write a blog post about how to lower your blood pressure through diet.
That could be valuable information for your audience.
You can go further though.
Prompt them to "click here and I'll send you 10 great recipes to help you get started with this diet," for example.
Isn't that even more valuable to them?
That's a content upgrade.
Offer them consistently and people will start coming to your blog to get both the value of your blog post, plus your content upgrades.
Build your audience
Whatever the size of your audience, you need to learn to build it.
You could have a huge audience or an audience of one.
In either case, you want to start making it grow.
Build your audience with content upgrades
In fact, content upgrades are a great way to do that.
You can use them to build your email list, for instance.
Using the example above, you could offer the free recipes for people who sign up for your email list.
Other methods
But there are many other ways to build your audience too.
You can make videos to go along with your articles and post them on YouTube.
Go on Facebook Live and tell people about the article you just wrote.
Do a guest post or an interview and mention a specific article you wrote.
Get people over to your blog and pull them into your audience.
If your blog is in the dumps this will certainly pull it out.
Keep your audience loyal
You want to build your blog audience.
But you also want it to be a loyal audience.
You want people to keep coming back to your blog often to see what your latest content is.
And of course, you want them to see your current offers.
This is how you build your business at the same time.
To keep your audience loyal, though, you have to keep giving them new content. 
Offer a product or service
A lot of people tell me their blog is in the dumps because they're not getting any sales.
But then they don't really have a good sales funnel on their blog.
They're not effectively promoting a product or service.
Or they don't have clear calls to action in their blog posts.
Maybe they're just not giving people a compelling reason to take any action.
You need to know what products and services you can develop and sell to your audience.
Then you have to find ways to effectively promote those products and services.
Promote affiliate offers
If you don't have your own products or service to sell to your audience, then you can promote affiliate offers.
Find somebody else's product or service that will help your audience. 
Use your blog post as a launchpad for promoting such products and services.
Then embed your affiliate links in your post and encourage people to check out the offers.
How to pull your blog out of the dumps
If your blog is in the dumps it's because you're probably not doing enough of the things that I mention in this article.
But this is just a small sample of things that may be keeping your blog from giving you good results.
Figure out what things you've been weak in.
And be determined to get strong in them.
Sit down and map out a course of action.
Develop a good strategy and then implement it.

Have you seen some weaknesses in your blog here?
Or others not mentioned here?
Did you learn some things that might help you to strengthen them?
Leave me a comment below.
And of course share your article with others.
Let me know if your blog is in the dumps, and why you think it is.
And tell me if you believe it's time to figure out a way to pull your blog out of the dumps.
–Donna