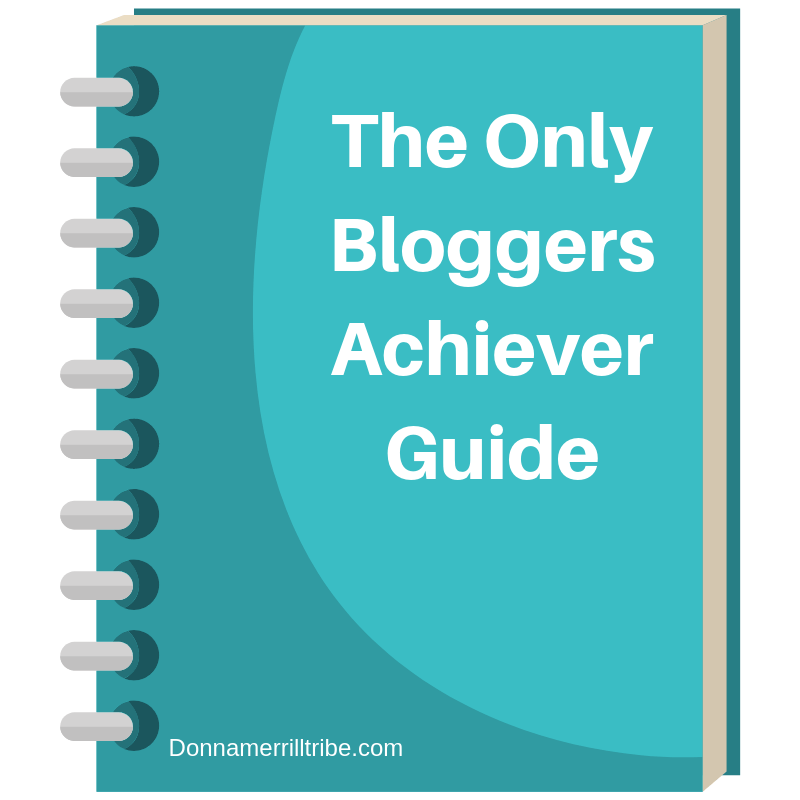 This is the only bloggers achiever guide you will ever need.
I've talked about creating your blogging dream.
About visualizing, seeing and feeling it.
I even showed you a very short little affirmation video I created for myself in order to put my subconscious mind to work for me.
But is that it?
Just dream and visualize and recite affirmations?
Of course not.
All that is a really big deal in order to get you on the right track.
But now it's time to talk about what you have to do to turn your dreams into reality.
Make a Plan
Before you start taking action, you have to figure out what it is want to achieve.
So think of your strategy.
You already know what your dream is.
Now come up with a strategy for making that happen.
Do some research.
Get some coaching.
Figure out what it is that you must do to become the blogging success you want to be.
Come up with a blueprint.
Outline it in detail.
Know exactly what you're going to do before you try doing it. 
Take Action
Now that you have a plan, it is time to act on it.
Knowing what you have to do is not the same as doing it.
So make sure you have a good blueprint… a precise plan you can execute every single day.
The actions you take must be directly related to achieving your blogging dream.
Don't fill your action schedule with things that are just kind of helpful.
Only with things that will directly lead to your blogging success.
That's what I call productive activity.
Doing stuff that won't make you a blogging success is what I call distracting and busy.
Stop doing distracting and busy stuff that makes you feel like you're on the right track when it's only taking you off the rails altogether.
Take meaningful, productive action and you will be able to reach your goals.
Stop Procrastinating
So what are you waiting for?
Well, that's a good question isn't it?
In fact, people are always waiting for something.
They need
more education

a better plan

inspiration

another training course

to read a new ebook

look at more articles

hear what the gurus are saying

see what the competition is doing

and on and on and on…
But wait… maybe there's a webinar coming up on your topic, too.
You may think you need those things, but the truth is, you don't!
If you want to be a blogging success, get down to the business of blogging today.
There is nothing more you need to do or know once you have your plan in place.
You simply must take the time to implement it.
That's all.
Start Small
Even though your dream should be Big, keep your actions small.
There are many detailed things you have to do to be a blogging success.
Don't try to do them all in one day.
This is why your plan and your strategy are so important.
Because they break your impossible Big Dream down into very manageable, smaller parts.
Each time you work on a certain part of your blogging strategy, give it all your attention.
During that time just forget about your Big Dream.
The only thing you should be focused on is that one tiny little action.
Work on tiny little parts of your business each day.
As long as your overall strategy is sound, then you're working in the right direction.
It will all come together at some point.
Of course, your strategy must be sound.
If you don't know if it is, then please get a good coach and work with him/her so that you're not wasting your time and effort. 
Be Consistent
Nothing is going to happen if you don't stick to your plan every single day.
Working real hard at being a blogging success for 3 days in a row is great.
But if you follow that with 4 days of slacking off, then you're really heading nowhere with your business.
You're just pretending that you're looking for blogging success.
But what you're really looking for is more excuses to procrastinate long enough to tell yourself (and maybe the world)… "well, that didn't work."
So have a daily schedule.
Stick to it.
Sure, take a day off.
But schedule that day off.
Take control of your business.
One of the great things about working for yourself is that you can take time off anytime you want.
In reality, most of the highly successful bloggers I know take very little time off.
That's because they love blogging.
And because they're passionate about their topic.
Most of all, because they know they'll destroy their momentum by getting lazy or bored or distracted.
Your dream should include things that you love and that you're passionate about.
That's what will keep you on target just about every day of every week as you march on toward achieving your Big Dream.
Embrace Failure
Now, things aren't always going to work out the way you want or expect them to.
You'll be working on something for 2 weeks and find out that you're just doing it wrong.
Or that it's too hard or complicated for you.
Maybe it's just the wrong thing to be doing.
Don't get upset.
Don't feel like a failure.
Just learn from the experience that whatever you were just working on is the wrong thing to be doing.
Then, change direction.
Work on something different.
Put a different spin on your strategy.
That's not so hard, is it?
Do what you have to do to get past those rough spots.
Don't get down on yourself.
And don't take 2 weeks off.
Just find out a better way to do things and start doing it right away.
And be thankful for what your little setback taught you.
By the way, while we're talking about failure I should remind you of this.
Working with a good coach will certainly reduce the amount of time that you have to "trial-and-error" yourself through endless failures.
A good coach is someone who has already done the things you're trying to figure out.
And a good coach will save you a ton of time and money spent barking up the wrong trees.
The only bloggers achiever guide
So that's really it.
If you do each of the things that I just told you, then you are well on your way to becoming a blogging success.
And I call this "the only bloggers achiever guide" because there's really nothing more to it.
I know a lot of people want to complicate things.
I don't know why.
Maybe they want to sell their courses or expensive software.
But it really gets down to nothing more than what I've just outlined here.

So what blogging path are you on?
Or what's blocking you from going down that path?
How are you attempting to achieve blogging success?
Leave me a comment below and tell me if you agree that this is really the only bloggers achiever guide.
-Donna
PS: Don't forget to share this article on your favorite social sites, too.