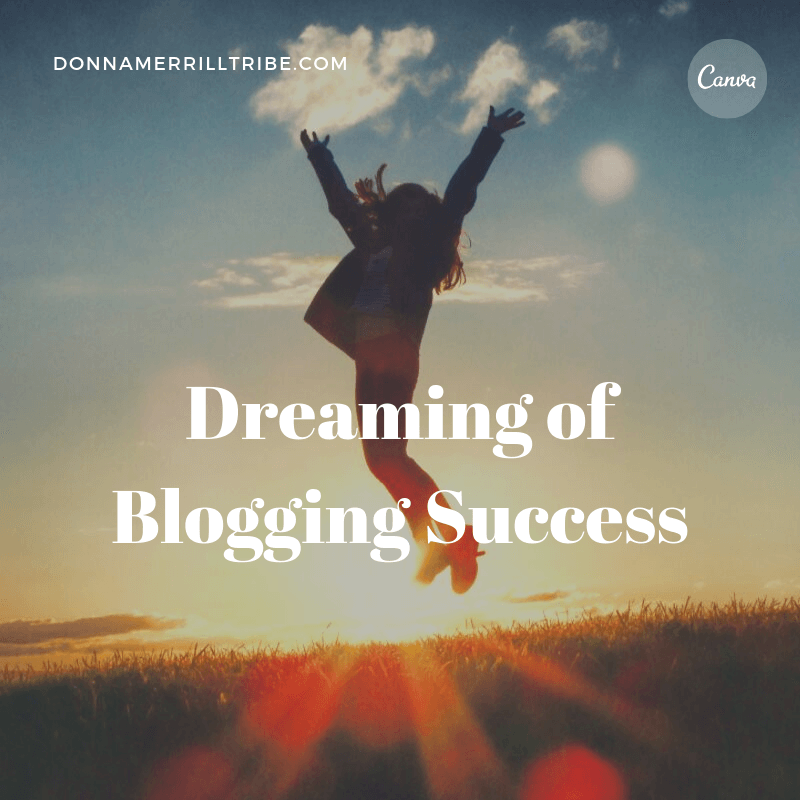 There are lots of people who are dreaming of blogging success.
Am I right?
In this article, I'm going to show you how dreaming about your blogging success is actually the first step to creating it.
Why you blog
There are lots of reasons that people blog to begin with.
Some people are just passionate about something.
So they create a blog to get other people involved in their passion.
Other people might be bloggers already.
Maybe they've been blogging for a while, but they just haven't had the kind of success yet, that they are looking for.
And then there are people who just want to blog because they want some kind of financial freedom.
They realize that by leveraging the power of the internet, blogging can be one of the fastest and easiest ways to achieve that freedom.
These are all common reasons for blogging, and they're all valid.
Do you see yourself in one of those groups?
Why do you blog?
Or why would you like to?
My Story as a blogger
I first got involved in the internet to help my private clients find financial freedom.
Running a thriving intuitive consulting practice, I just kept hearing from people that they were scared of their financial future.
Even if they had a good job today, it could be gone tomorrow.
So I looked into online opportunities for them.
I soon decided that blogging is one of the best ways to establish that kind of security.
So I started blogging as a way to teach others how to do it.
And I set my mind to being a successful blogger.
You can, too.
Maybe you could create your own blogging success affirmation like I did here…
Coaching bloggers
When I started teaching and coaching bloggers, students would ask me how they can become successful in blogging.
The thing is, that it's more than just setting up a blog.
I could help you do that pretty easily.
But it's also learning how to make your blog successful.
The best way I can tell you to become a successful blogger is to start with a dream.
Dreaming of blogging success
Yes, you need to dream about your success as a blogger.
But you can't be content with just a vague dream about unrealistic things.
Do you dream of being a blogger superstar in your field, or getting a new house on a tropical island, or having a new sports car in your driveway?
Those are not the kinds of dreams I'm talking about, here.
I'm talking about real dreams.
Are you dreaming of blogging success?
I'm going to show you the first step in achieving it.
Your blogging dream
The first step is to actually have a blogging dream.
That is, a dream of what "being a blogging success" means to you.
Nobody can define what a blogging success is except you.
There's no standard for what blogging success is.
It really just depends on what you want for your life.
And it depends on what interests you have, and what your passion is.
If your blog is helping you to live your passion, then you have achieved a certain level of blogging success.
So the first thing you have to do is to define for yourself just what blogging success means to you.
Then you have to get very clear in your mind how blogging can change your life.
What will blogging success mean to you?
What things in your life will actually change?
My blogging dream
When I first thought of blogging, I asked myself "Who will my blogging impact?
"How it impact their lives?"
I was dreaming of blogging success in terms of helping my clients.
They were the people I wanted to impact.
And I wanted to do that by showing them that there was another alternative to just working a boring or dead-end job.
They could take control of their own lives and financial security.
So, for me, my blogging dream was to be able to help my private clients in my intuitive consulting practice.
In time, that dream expanded to include people who I met online, most bloggers, who needed to learn how to improve their blogging business.
Develop your dream
So you see, you start building blogging success by developing a dream.
Your dream.
Make it totally specific to you, your situation, your goals, and your abilities.
I wrote recently about taking some time off from blogging in order to reflect on your life as a blogger.
In that article, I mentioned how it is so important to take a vacation.
Not just to take time off from blogging, but to use that time for some reflection about what you're doing and where you want to go with it.
Dreaming of blogging success is a perfect way to do that.
Reflect.
See yourself as the successful blogger that you dream of.
What kinds of things would you be doing?
What kind of message would you bring to the world through your blog?
What kind of help, enlightenment, inspiration, education or entertainment would you be giving people?
Break your dream down into tiny parts
How would your dreaming make you be a successful blogger?
I am talking about breaking down your dream into a vision.
Reflect on the things you would be doing on a daily basis.
Envision the kinds of activities you would be undertaking.
See what kind of audience you are attracting.
Who are those people?
What are their dreams?
And what are their problems?
How does your blog help them turn their dreams into reality, or solve their problems?
Idle dreaming
So what I'm talking about here is to create something that goes beyond just an idle dream about being a successful blogger.
I'm talking about constructing a very concrete, detailed dream of it.
A dream that you can actually have.
A conversation you can have with yourself.
Reprogramming your subconscious reality
Once you get a real clear view of yourself being a successful blogger… then you are actually beginning to train your subconscious to accept that reality.
You are beginning to show your subconscious the path to success.
And when you're able to inform your subconscious in that way, then it will start to work with you on fulfilling that dream.
So the first step to being a successful blogger I would suggest to you, is to get very clear on what being a successful blogger even means to you.

Now, it's time for you to voice your opinion on this topic.
Are you dreaming of blogging success?
Really dreaming in a constructive, deliberate manner?
Or are you just hoping something good will happen if you keep working hard?
Maybe you have developed your own little process for achieving your goals.
I would love to hear how you are dreaming of blogging success.
-Donna
PS: Be sure to share this article on your favorite social sites, too.
Thanks for spreading the word 🙂