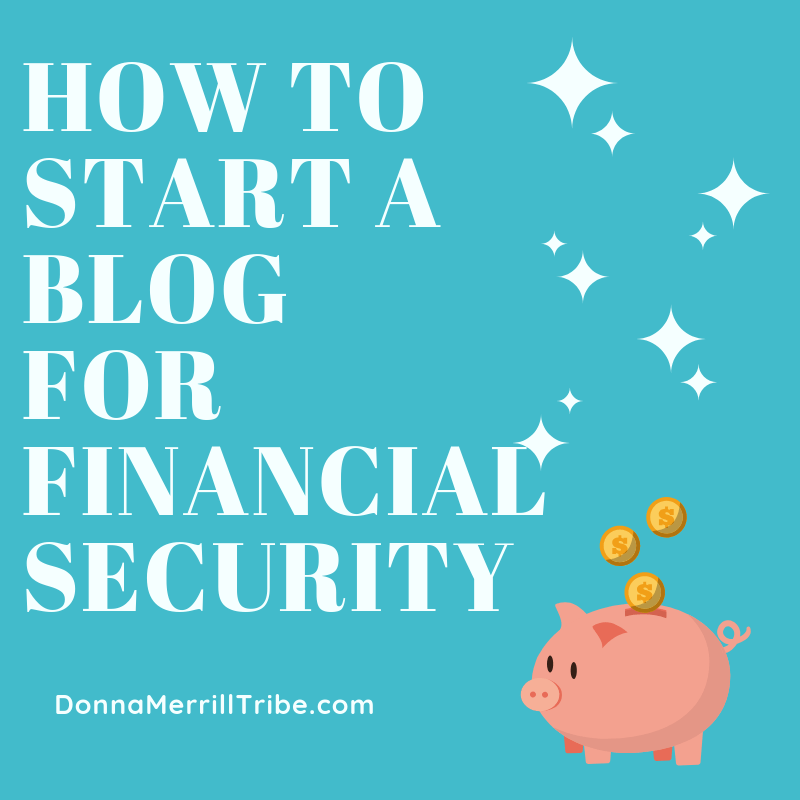 Learn how to start a blog for financial security, and you will have a great backup plan to hedge against unemployment, sudden financial loss or other catastrophic events. 
I know you are in a specific financial situation right now.
You might have a great job or career.
Perhaps you've invested wisely, or have retired with a nice pension.
Or you might be struggling to pay your bills, or even be living on some kind of government subsidy.
Whatever your situation is, it could change.
Right?
And suddenly.
Right again?
I mean, whatever gives you a sense of security and peace of mind right now can easily change tomorrow.
So you need to have a backup plan.
Call it "Plan B" or "financial security" or whatever you want.
It simply means something you have going on that can help you weather the storm if you ever find the need.
Why I started blogging
A number of years back, I was running a very successful professional practice as an intuitive consultant.
My clients included ordinary working people, psychotherapists, teachers, famous actors, forensic psychiatrists, company CEOs and many others.
But most of them, from the very successful to the barely employed, lived in worry.
They worried they might get laid off, or demoted, or lose their investments or pensions.
A great many were women who feared losing the security of sharing the financial burden with their husband or partner, since their relationship or marriage was on shaky ground.
So they wanted a backup plan "just in case" something bad or unexpected happened.
When I first started learning about how people build side gigs or even full-time businesses through the internet, I was determined to see how they were doing it.
I thought this would be a great strategy to offer to my clients.
This was especially important for the women who feared suddenly becoming a single mom, or unemployed and alone or even unemployable because of their age or other circumstances.
I quickly learned that blogging was the most likely solution for people in these situations.
So I started blogging.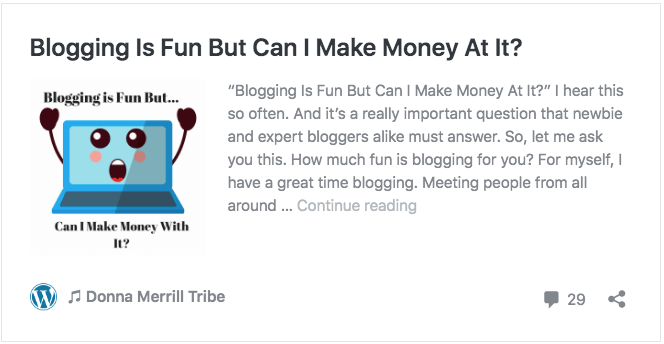 I blogged about how to start a blog, and the best ways to run a blogging business.
I hoped to teach others how they could do the same thing as a backup to their careers, jobs and relationships.
Why blogging?
There are several great things about blogging if you want to shore up your financial security.
Blogging is user-friendly
For one thing, blogging is pretty easy to do.
There are other online business models that can help give you financial security.
But none are as easy as blogging to get started and keep growing.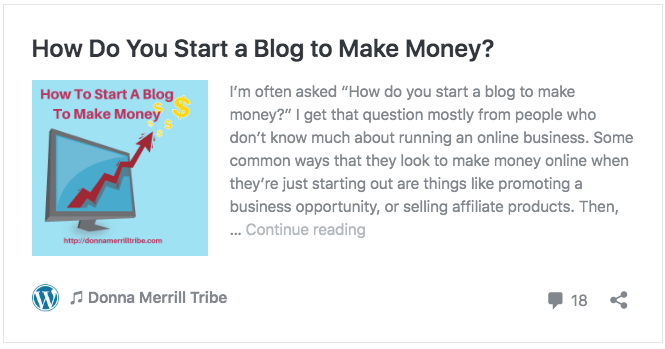 To operate your blog, you simply need to add content on a regular basis.
That means, you need to publish new blog posts regularly.
It's easy enough to write a blog post.
But it's important that you do it according to some kind of schedule.
That way, people see you are serious about your business, because you keep it fresh and up to date.
Blogging is cheap to do
It costs very little to get a blog up and running.
You only need a few things to get your blog started.
1. Domain
Choose a domain name that gives people a sense of what you do.
If you are an accountant, maybe something like "South Island CPA dot com"
Then you buy the domain name.
You can go to any company that sells domains and buy the domain name.
Just put "buy a domain name" in your search engine and you'll find tons of them.
I actually think the best way to buy your domain is to first pick a hosting plan, and then buy the domain name from them.
The cost will probably be something in the 5 to 20 dollar range, per year.
2. Web Site Hosting
There are tons of good hosting companies around.
Go with a big one, with a proven record of success.
I always recommend Bluehost, but there are many others, too.
You should be able to get your first year of hosting for under $10 per month.
Once you sign up a for website host, just open your new domain name, and you have a blog!
3. Blog
I highly recommend that you use a WordPress blog.
But not the free version that is hosted on the WordPress site.
Get your own domain name and your own hosting first, then just open your website in WordPress format… for free.
You'll pay a bit more by buying your own domain name and hosting plan, but then you will own your blog instead of renting on a free platform.
And it will look far more professional.
Blog to your target audience
You can tailor a blogging business to just about anything in the world.
If you're a Spanish teacher facing early retirement, you can start a blog teaching people conversational Spanish.
Maybe you want to sell physical products like beauty creams or electronic equipment.
Do you know how much it would cost to open a brick and mortar store in your community?
A great deal more than it would to operate a blog to affiliate these products.
And as an affiliate, you'd never have to buy, warehouse, inventory or ship these products.
Just put a little link on your blog, and if people buy from it, you earn a commission.
What if you want to retire from your social worker career?
How about being a "personal coach" from the comfort of your own little blog?
Just think of what audience you want to showcase your talents or products and services to.
Write your blog for them.
This becomes "your target audience."
Can you make money blogging?
There are many ways to make money blogging.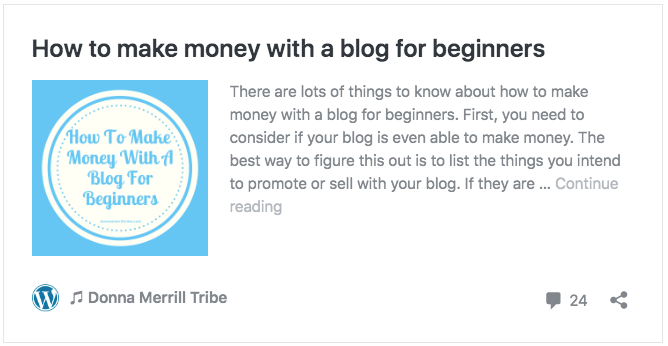 But don't think about that.
Just focus on the kind of information that benefits your readers.
Develop that "content" on your blog, and you'll be on your way to having a blog that is capable of making money.
How does a blog become your "backup" plan?
After you've been blogging a while, people in your target audience will start seeing you as a credible authority in your field, or on your topic.
So, even if you have no immediate plans for monetizing your blog, you will be establishing a strong backup plan for your financial security.
If you suddenly lose or quit your job, for instance, you can start offering your professional services on your blog.
You can even use your blog on your resume if you want to get a new job in your field.
It will show prospective employers that you are a professional, an authority, or an expert.
And it will show people you are current and relevant in your field or on your topic.
How to start a blog for security
It's simple enough to start a blog.
I've shown you how above.
But to start a blog for security requires something more.
It requires that you carefully choose a blog that will address your target audience.
And it requires that you add high quality, valuable content on an ongoing basis.

So tell me, are you ready to get started?
Do you feel more confident now, that you know how to start a blog for financial security?
I'd love to hear from you in the comments below.
-Donna
PS: Take a moment to share this valuable information with your friends.  Just link to it on your social sites.