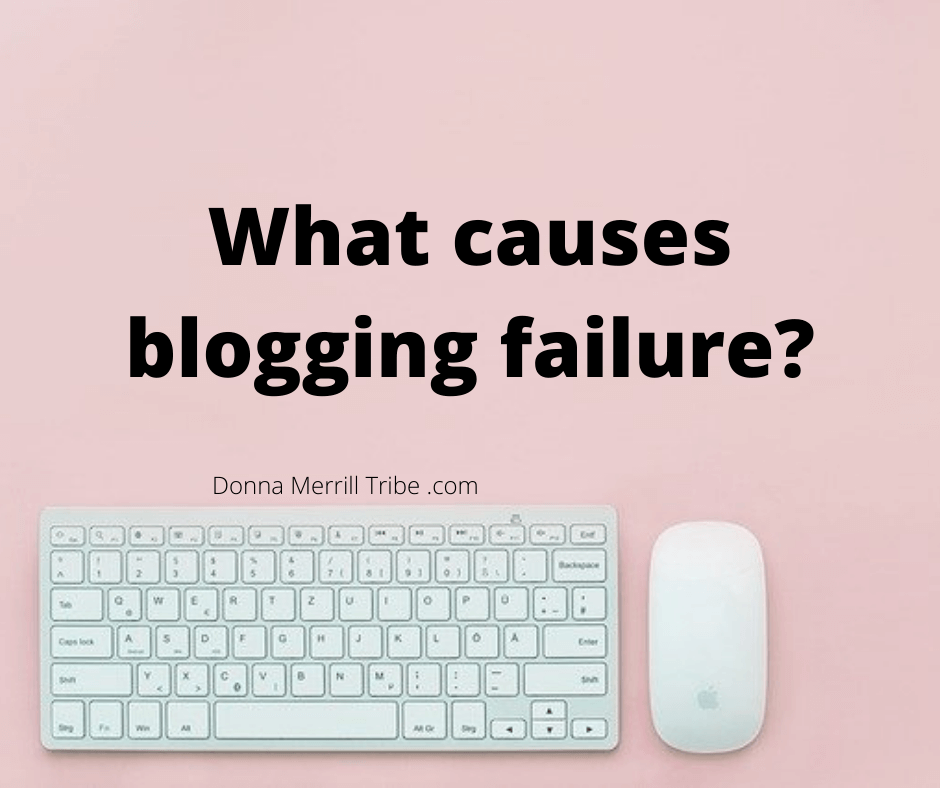 You need to know what causes blogging failure.
That way you can avoid those things.
New blogs pop up all over the internet, every single day.
They originate from every country in the world.
So many people are so excited and anxious to get their blogs up and running.
Yet, so many bloggers give up after just a short while of trying to succeed.
Why is that?
Let's talk about what causes blogging failure.
Expectations
What did you expect when you first started blogging?
Instant success?
A huge audience that would hang on your every word?
Or, did you expect blogging would simply be another thing you'd "try out," for a while?
Only to drop it when things got too challenging.
Expecting failure
Actually, most bloggers expect failure from the outset.
They figure it's a long-shot attempt to build an online business.
But they never really believe that's what will happen.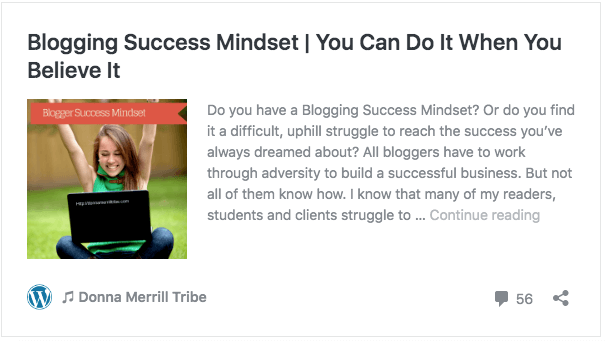 So they devise a "back-up plan," for when things go sour.
And they always have that back-up plan in mind, because they fully expect eventual failure.
Since you usually end up getting what you believe you will, if you came into this business expecting failure, then I suppose you've probably been struggling, if not sinking.
And if you came into this business expecting failure, then that's almost certainly what you're finding.
Fear of succeeding
Now, this is interesting.
You'd probably tell me right away, that you're not afraid of succeeding.
That would be you greatest aspiration.
You could only be afraid of failing.
Yet, I see bloggers all the time who are afraid to succeed.
That's because with success, comes a higher standard they have live up to.
And it means a deeper commitment to working hard, overcoming challenges and cutting your ties to all those comfortable excuses for failure.
Are you afraid of succeeding?
Don't be too quick to say "no way."
It's a very common cause for blogging failure.
Success Envy
Do you ever look at successful bloggers and wonder how they do it?
Does it make you scratch your head and think "how did they get so successful?"
That's a good thing if you're doing it to learn from them.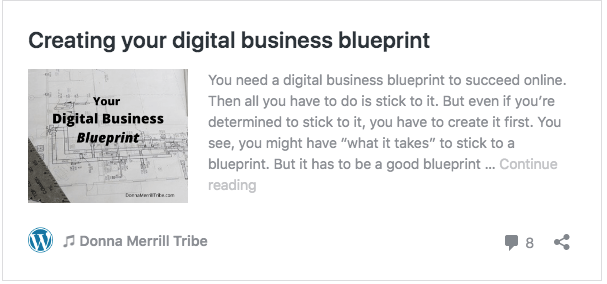 But if it just stirs up feelings of envy for their success, then it merely deflates your efforts, and makes you want to give up.
"I can never climb that high," you might think.
Or, "I'll never have a huge audience like that."
You see, watching what a more successful blogger is doing to learn some new strategies is fine and well.
But just wringing your hands over their success because you're convinced you can never duplicate it, can destroy your blogging business faster than anything.
Not everybody reaches the same level of success.
Learn from others, but don't get caught in the trap of success envy.
That'll put you on a fast track to blogging failure.
Relying on step-by-step programs
Talking about learning from others, here's another thing that commonly causes blogging failure.
Trying to follow exactly what someone else has done, because you think by doing so, you can duplicate their success.
It's true, you can duplicate their actions.
Many gurus and experts sell their step-by-step programs to people looking to duplicate the success of the gurus.
But every situation is different.
Simply by following step-by-step what someone else has been successful with, won't necessarily work for you.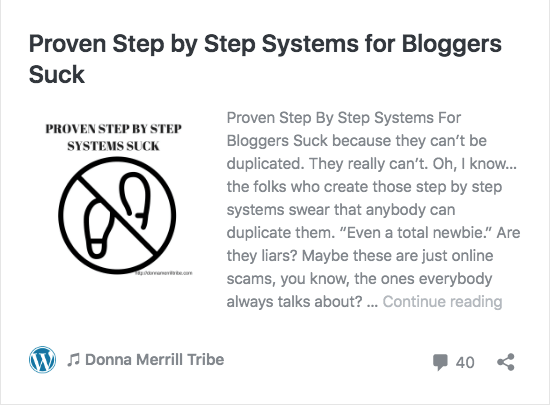 Like with successful bloggers, you might learn some good strategies and tactics from a step-by-step program.
But you can't duplicate the results that somebody else has achieved just by doing the same thing.
Everyone has different circumstances.
And what works for one person might be a disaster for someone else.
Learn from these kinds of programs, but relying too heavily on them for your success is one of the major causes of blogging failure.
Never really knowing why you blog
Another common cause of blogging failure is never really getting a good grip on why you are blogging.
Now, it might seem a bit crazy that someone would blog without knowing why.
But it's one of the first signs of trouble that I detect among bloggers I coach.
They have a vague sense of what they want to do with their blogs, but can't really define it exactly.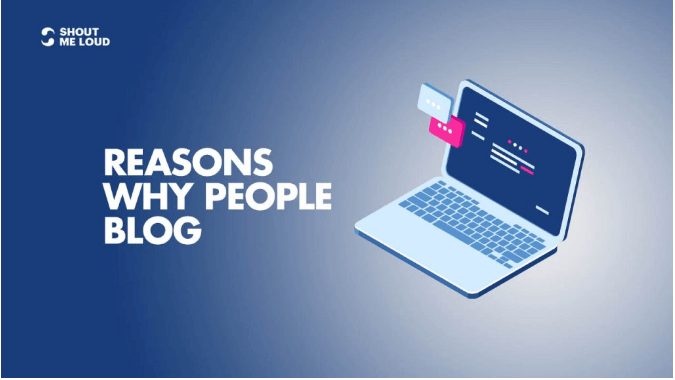 Learn the Top 15 Reasons Why People Blog from ShoutMeLoud.
And they often spend months, sometimes even years, just trying to find their way.
No clear niche
A big problem, here, is understanding what your niche is.
Again, that might sound a bit silly.
Isn't it clear what your niche is?
Not for many bloggers.
Maybe not for you.
So, for instance, you might tell me that your niche is health.
And for months I see you've been posting articles about heart disease, nutrition, home exercise equipment, vitamin supplements.
You might think this is your niche.
But it's way too broad.
You would need to narrow down what you really want to blog about.
It's possible that one of the topics I just listed might be your real niche.
But only one… not the whole smorgasbord of topics.
There's no doubt that not being able to get that kind of clarity causes blogging failure for a lot of people.
Thinking you'll figure it out later
There's also a tendency to think that none of these things are important starting out.
Bloggers often think they'll just figure out why they're actually blogging as time goes on.
Somehow, after publishing 10, 20, 100, 200 blog posts… you think that clarity on what your blog is about, who your intended audience is, and why you're blogging at all… will magically appear.
It won't.
You need to figure these things out when you first start your blogging business.
Then modify your plans as you go along.
Big dreams, but small effort
Now, you might agree with all I've warned you about so far.
But you might think that all your really need is that big dream.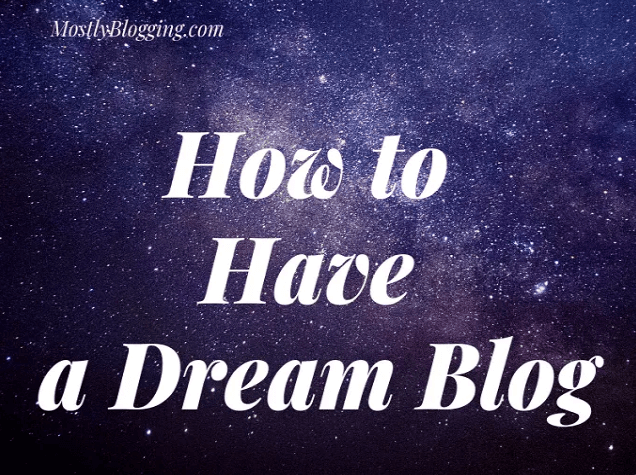 Learn more about Dream Blogs from Janice Wald (MostlyBlogging)
You can just start writing some articles whenever you get inspired to.
Start talking to people on social media, post up links to your blog posts, and focus purely on your big dreams.
Whatever they are.
In time, people are going to start realizing that you have so much to offer that they'll just start flocking to your blog.
But that's truly a recipe for blogging failure.
Procrastination
What you really need is to stop procrastinating.
Stop waiting for magic to happen.
Your blogging business will never take off until you commit to making small efforts.
Every day.
Never let a day go by without doing something to help move your business forward.
If you put it off until tomorrow, just once, you'll risk spinning into the hopeless habit of putting things off.
It's always easier to keep dreaming big dreams than to consistently apply small efforts to your business.
But just dreaming big without making the small effort of sticking with the daily tasks that can make those dreams come true, so often leads to blogging failure.
What causes blogging failure?
As a coach and mentor, I see what causes blogging failure.
And I see these same things over and over again.
I've just outlined them for you so that you can avoid making these common mistakes.
We all slip up sometimes, and go through rough times when we just don't do a very good job at any of these things.
But the faster you can catch yourself slipping, and get back on the right path, the more likely you are to avoid becoming a blogging failure.

Tell me what you think.
Leave me a comment below.
What do you struggle with in keeping your blog moving forward?
And what challenges have you overcome?
I'd like to hear, too, if you have any additional insights through your own experience, as to what causes blogging failure.
–Donna
PS: Please share this article on your favorite social sites!